SequEaster: White House Says Easter Egg Roll May Be Canceled Due To Possible Gov't Shutdown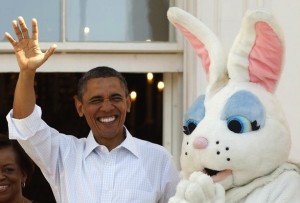 Remember when the White House got so much pushback on canceling all White House tours due to the automatic spending cuts that went into effect just a few weeks ago? Did that eat away at your soul and get you mad at the government for taking away fun things? Well, now it may get even worse, for in a memo sent out to lawmakers today, the White House is now warning that because of funding uncertainty over a potential government shutdown next week, the annual Easter Egg Roll may have to be called off.
RELATED: Eric Bolling Doubles Down On Offer To Pay For WH Tours: Obama's 'Punishing' Kids With 'Political Game'
Mere weeks after Congress failed to work out a deal by a deadline that they set up in the first place, Congress is now facing the more critical problem of making sure the government does not shut down. Yes, it's another impending government shutdown, and unless Congress does not reauthorize funding (but only for six months, because why not make the threat of the government shutting down a biannual event) by March 27th, the shutdown will actually happen this time.
The White House sent out a memo to lawmakers today warning them that if they cannot reach a compromise, the Easter Egg Roll will have to be cancelled.
[T]he White House notes that "by using these tickets, guests are acknowledging that this event is subject to cancellation due to funding uncertainty surrounding the Executive Office of the President and other federal agencies."

The memo adds that if the event is canceled, it would not be rescheduled.
For now the event is still on, according to White House press secretary Jay Carney. And the White House remains optimistic that the shutdown will not actually happen.
There has been no official decision yet, and it is still isn't clear if Congress is actually going to come together on a deal before the March 27th deadline. However, the one thing we can be certain of is that the media gives this more coverage than it deserves.
—–
Follow Josh Feldman on Twitter: @feldmaniac
Have a tip we should know? tips@mediaite.com
Josh Feldman - Senior Editor