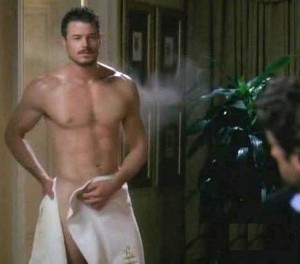 To date, the Dr. McSteamy sex tape is pushing over 2.25 mil. page view on Gawker— a refreshing reminder that Internet voyeurs love nothing more than watching celebs have sex … or watching them lie around naked and smoke crack, as the case might be. Today Sex Watch follows Eric Dane, wife Rebecca Gayheart and crack-smoking ex-beauty queen friend Kari Ann Peniche around the Web to see just how far one sex tape can go.

• Tabloid Pick-Up, Us Weekly, In Touch Weekly, Life & Style, Star
Of course all the gossip mags picked-up news of the tape, and Gawker in turn reviewed their coverage of its coverage; the main grading criteria seems to be how well the mags name-checked Gawker and Defamer. It's a veritable Eiffel Tower of sex tape coverage (and Gawker Media is high-fiving itself over the top, obvi).
• "Fans A-Twitter Over Eric Dane Nude Tape," People
People wasn't included in Gawker's gossip mag roundup because the glossy abstained from jumping on the tape. Gawker's explanation: "they seemed to have dropped the ball altogether (or just don't give a fuck)." Instead, People took a thinking man's approach to the coverage online, following the way the story has evolved on Twitter and in lawyers' offices.
• "Eric Dane — I Did Not Have Sex With that Woman!" TMZ
On Tuesday, the day after the tape was released, TMZ did some digging to find out how the tape might have leaked.
Kari Ann says the video was stored on the hard drive of her computer, but stolen by Mindy McCready, who was her roommate after the two completed a stint on the TV show "Celebrity Rehab." Kari Ann says she got into an argument with McCready over money and believes the singer took her hard drive when she moved out. Kari Ann freaked out about certain personal information about her on the hard drive and filed a stolen property report with the LAPD.
We knew Celebrity Rehab had a hand in this. A-ha!
• "Who at Gawker is Cashing in on the McSteamy Sex Video?" Mediaite
Also on Tuesday, Mediaite noted that the video yielded Gawker's most-viewed post this year. We talked with Gawker managing editor Gabriel Synder, the author of the original post with the video, about who was raking in the newly reinstated page-view bonus for this post.
•  "Sex Tapes for Profit," the Washington Post's Howard Kurtz
Howie Kurtz also jumped on the McSteamy traffic train today.
• "Most Infamous Celebrity Sex Tapes," Chicago Tribune
What better way to welcome a new addition the esteemed 'Most Infamous Celebrity Sex Tapes' club than a slideshow of grainy stills? Plus, we could always use a reminder of how Kim Kardashian got to be famous.
Have a tip we should know? tips@mediaite.com