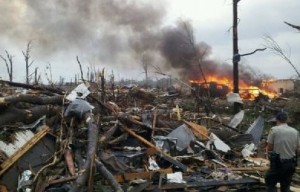 Last night the cable newsers were still trying to make sense of yesterday's Presidential press conference in which Barack Obama succumbed to pressure to somehow prove that he was born in the U.S. But in the southern states of this country, a real story was unfolding, one that included well over 100 fatalities, nuclear power plants brought offline and decimated cities and towns.
Yes, the massive tornado storm that leveled parts of Tuscaloosa was relatively ignored last night, though the Internet delivered more news, images and updates than our trusted news sources. What follows is a slide show of user-generated images published last night as a result of the tornadoes in Alabama.
CNN has the most recent update on the fluid story:
The death toll from a wave of violent storms that swept across the South skyrocketed to 173 after county-by-county reviews by Alabama and Mississippi emergency management agencies Thursday turned up scores of additional fatalities that more than doubled the total, officials said.

The vast majority of fatalities occurred in Alabama, where at least 128 people perished, Jennifer Ardis, a spokeswoman for Gov. Robert Bentley, told CNN Thursday. A breakdown provided by Ardis showed that violent weather claimed lives in 16 Alabama counties. The hardest hit was DeKalb County, Alabama, where 30 people perished in the storms.

Before dawn Thursday, Mississippi emergency management officials also added 14 previously unreported fatalities to the count, increasing the death toll in that state to 32, officials said.

The storms left fatalities in five southern states, including Arkansas, Georgia and Tennessee. They leveled neighborhoods and left hundreds of thousands of customers without power throughout the region.

"This could be one of the most devastating tornado outbreaks in the nation's history by the time it's over," CNN Meteorologist Sean Morris said.

Long before the death toll mushroomed, governors in Alabama, Mississippi and Georgia had declared states of emergency within their borders.
Read the entire update at CNN for more details to the unfolding story. Or take a look at user generated images of the destruction published by Producer Matthew, a growing legend on Tumblr and Twitter for updating social media platforms with breaking news stories ahead of cable news outlets:
>>>>NEXT: Check Out images of destruction from Alabama Tornadoes>>>
Have a tip we should know? tips@mediaite.com