SOPA Part II Or Not? Congress Taking Up Controversial New Cybersecurity Bill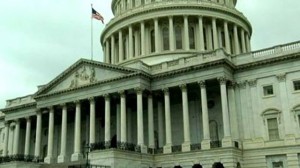 In the midst of a presidential election and all sorts of big, flashy stories over the past week, you may have missed the news that the United States Congress is going back to working on legislation that supporters say is not just another version of SOPA, the controversial Stop Online Piracy Act, while detractors say it still has dangerous implications for the privacy of average citizens.
RELATED: Mark Zuckerberg On SOPA: 'We Can't Let Poorly Thought Out Laws Get In The Way Of Internet's Development'
The new legislation is CISPA, the Cyber Intelligence Sharing and Protection Act, and it encourages companies to share information about potential internet threats or cyberattacks to the government. The key difference between this bill and SOPA is that many of the same big tech companies who spoke out against SOPA are now lining up to support CISPA.
The bill would tear down legal barriers that discourage companies from sharing information about cyber attacks. Some companies are worried that antitrust laws bar them from cooperating with each other to address cyber threats, and some fear they could be held liable if they reveal information after an attack…

Unlike other cybersecurity bills pending in Congress, CISPA does not require that companies strip out personally identifiable information, such as names, addresses or phone numbers, from the data they turn over to the government.
An anonymous House aide in favor of CISPA made it clear that the language of the bill would be so broad that it would encompass even new forms of technology that come along, but reassured the public that even though companies will be reporting every potentially illegal or dangerous action they see, "[s]ome kid in the Dallas suburbs illegally downloading movies doesn't come close to our definition." He says copyright infringement isn't part of this legislation.
The bill is opposed by the American Civil Liberties Union and the Electronic Frontier Foundation. A senior fellow at the Center for Democracy and Technology argued that the language of CISPA is such that companies could end up handing an individual's private information over to the government.
h/t The Hill
Have a tip we should know? tips@mediaite.com
Josh Feldman - Senior Editor