Sorry, Petitioners. Secret Service Says There Will Be No Guns at GOP Convention.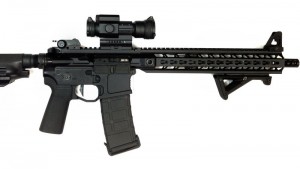 A Change.org petition to allow open carry at the Republican National Convention in July has not moved the Secret Service, who said in a statement Monday that guns would not be allowed inside the venue, Cleveland's Quicken Loans Arena.
People have claimed that the petition — which currently has over 47,000 signatures — was launched with satirical intent, but it has still succeeded in gaining traction. A representative of Ohio Carry told Guns.com that his organization "would love to see this petition take off and the RNC to allow law abiding citizens to carry at the event."
Sen. Ted Cruz told reporters Monday that he had not read the petition but he would defer to the judgment of the Secret Service.
The petition argues that the no-guns policy of the Quicken Loans Arena compromises both the Constitutional rights and the safety of convention-goers. The petition invokes statements from the NRA and the Republican candidates, which say that that "gun-free zones" are inherently dangerous.
The petition says:
By forcing attendees to leave their firearms at home, the RNC and Quicken Loans Arena are putting tens of thousands of people at risk both inside and outside of the convention site.

This doesn't even begin to factor in the possibility of an ISIS terrorist attack on the arena during the convention. Without the right to protect themselves, those at the Quicken Loans Arena will be sitting ducks, utterly helpless against evil-doers, criminals or others who wish to threaten the American way of life.
[h/t The Hill]
Have a tip we should know? tips@mediaite.com