Spike Lee Clarifies Views on Oscars Drama, Plans to Skip Ceremony for Knicks Game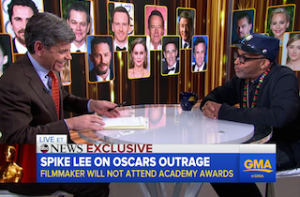 During an appearance on Good Morning America today, director Spike Lee added his name to the growing list of celebrities speaking out about the lack of diversity at the Oscars. Well, actually, his name was already on that list, but he offered some clarification on his previous comments to George Stephanopoulos.
Two days ago, we reported that Lee was calling for a boycott of the event, or was, at least, planning to personally boycott it. Today, he insisted that he is not boycotting the Oscars, but rather, just not attending them.
"All I said was my beautiful wife Tanya…we're not coming. That's it, and I gave the reasons!" he said, repeating a few times that he would simply be "at Madison Square Garden" for a Knicks game. "We're not coming. I'm not going. My wife's not going. Everyone else can do what they want to do."
He and Stephanopoulos went on to discuss the state of the Academy and the lasting power of winning films. Lee pointed out that his acclaimed film on racial tensions in Brooklyn, Do the Right Thing, wasn't even nominated for Best Picture, which Driving Miss Daisy, a film about a black chauffeur driving around a rich white woman, won. He went on to explain that Do the Right Thing is still being used as a teaching tool in colleges around the country, which I can confirm, having studied it extensively in 2011. Driving Miss Daisy, on the other hand, barely registers in classrooms, let alone living rooms.
Watch his analysis above.
h/t Yahoo! 
[image via screengrab]
For more from Lindsey, follow her on Twitter.
Have a tip we should know? tips@mediaite.com