State Department Spox Heather Nauert Under Fire For Smiley Pic in Saudi Arabia Amid Uproar Over Khashoggi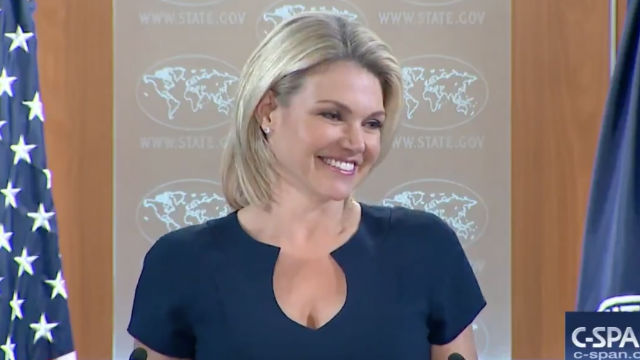 State Department spokeswoman Heather Nauert is drawing some heat on social media for a picture she posed for in Saudi Arabia.
Nauert posted the image to Instagram on Wednesday morning. In it, she's seen smiling while standing in front of the Saudi Royal Court.
View this post on Instagram
The picture comes as the world continues to inquire about Jamal Khashoggi's disappearance, especially since new indications suggest that the journalist was brutally murdered and dismembered weeks ago. As such, people have noticed Nauert's Instagram post. Here's a sampling of the criticism:
If I were the State Department's spokesperson, on an official trip to learn more about the dark, dubious circumstances surrounding the disappearance of a U.S. resident, I probably would have skipped the tourist-in-Riyadh photos. But that's just me. pic.twitter.com/oBBWOt1G5b

— David Gura (@davidgura) October 17, 2018
Morning, America.
Here u have more smiling pics from US State Department while on a "fact-finding mission" to investigate disappearance of a US Resident.
Trump Administration's coordinated efforts to help Saudis cover-up #JamalKhashoggi's gruesome murder, are simply disgusting. https://t.co/0Fx0upXrcD

— Ana Navarro (@ananavarro) October 17, 2018
"Represent," my working-class mother always said. "Make proud the people who sent you." https://t.co/yVWvPob1pJ

— Connie Schultz (@ConnieSchultz) October 17, 2018
This entire situation is ghoulish in how it's being handled. https://t.co/SIFBq833WQ

— Erick Fernandez (@ErickFernandez) October 17, 2018
The complete obliviousness and insensitivity coming out of this administration regarding #Khashoggi speak volume.

Imagine if Obama… https://t.co/vIAU2P1frn

— Karim Lebhour (@KaLebhour) October 17, 2018
She's smiling because she forgot the cover story that they're "looking into" the murder. The whole thing is the most obvious sham designed to protect Trump's profits. Disgusting. https://t.co/L3QkIwPVL9

— Walter Shaub (@waltshaub) October 17, 2018
Hey, if they can listen to music while they dismembered Khashoggi's corpse, why shouldn't she pose for a happy snap in Saudi? It's important to recognize that work can be also be fun. https://t.co/xPR89DRYTN

— Jeff Sharlet (@JeffSharlet) October 17, 2018
Nauert, according to a recent report from Politico, is under consideration from President Donald Trump to replace Nikki Haley as U.S. ambassador to the U.N.
On a separate but related note, Pompeo also drew flak in the last few days for smiling as he met with the Saudi crown prince to discuss Khashoggi.
The pictures of Pompeo grinning, smiling, and laughing with the crown prince—as if a journalist wasn't just murdered—are remarkable. Not only is it bad policy; it's downright embarrassing. It makes Pompeo look like an unserious pushover. It's really indefensible on any grounds pic.twitter.com/qwgs9LK9VH

— Shadi Hamid (@shadihamid) October 16, 2018
Pompeo, who used to criticize Ds bamboozled by foreign leaders, appeared in Riyadh with a wide grin plastered on his face. Pumping the crown prince's hand as though he was an old pal, Pompeo seemed to be there to deliver an escape route for the Saudis https://t.co/aCT01y4CKk

— Jennifer Rubin (@JRubinBlogger) October 17, 2018
US Secretary of State Pompeo smiling & laughing with MBS as if the journalist #JamalKhashoggi wasn't murdered & cut by a saw, is to rise the question: Is Pompeo with his bad history of inhuman torture is the suitable person that we should expect to run for justice??@KarenAttiah pic.twitter.com/l6DcOAzgyJ

— Mahmoud Refaat (@DrMahmoudRefaat) October 16, 2018
[Photo via Instagram]
— —
>> Follow Ken Meyer (@KenMeyer91) on Twitter
Have a tip we should know? tips@mediaite.com