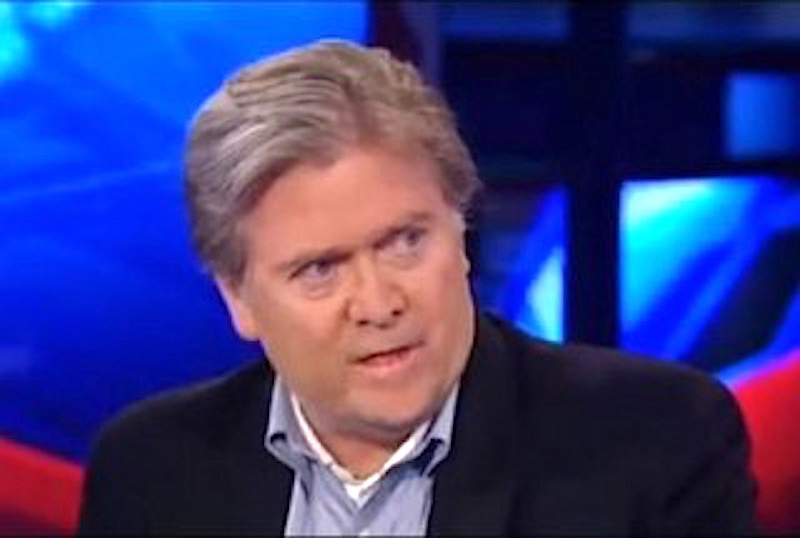 The Drudge Report broke the bombshell news of Steve Bannon's removal from the White House Friday with a signature banner — which was soon confirmed by the rest of the media.
Shortly after, the sparse website had an additional piece of information on the next move for the now-former White House chief strategist: he may return to Breitbart, the right-wing news website he once chaired.
That was confirmed by Gabriel Sherman, who tweeted that a source confirmed Bannon is "expected to return to Breitbart":
Source close to Bannon confirms Bannon expected to return to Breitbart after a WH exit

— Gabriel Sherman (@gabrielsherman) August 18, 2017
Maggie Haberman reported for The New York Times that President Donald Trump made the decision to fire Bannon Friday morning — though Bannon contends "that he had submitted his resignation to the president on Aug. 7," which was confirmed by Circa's Sara Carter:
Steve Bannon just told me he resigned from the White House two weeks ago @POTUS #Bannon

— Sara A. Carter (@SaraCarterDC) August 18, 2017
Trump has privately fumed for months, according to reports, that Bannon had taken too much credit for his ascent to the presidency. Bannon also ran afoul of the president for repeatedly leaking negative information about his White House colleagues to the press.
Jonathan Swan at Axios published a story before news of Bannon's firing broke noting that some allies of the former Breitbart chair thought he could be a powerful tool for the administration outside the White House:
"He'd return to the outside world, a leader in the populist nationalist movement worldwide, with a partner in hedge fund billionaire Bob Mercer, who has deep pockets and would make Bannon even more of a force to be reckoned with on the outside," Swan wrote.
"Plus he has the killing machine of Breitbart to return to."
[image via screengrab]
—
Follow Aidan McLaughlin (@aidnmclaughlin) on Twitter
Have a tip we should know? tips@mediaite.com
Aidan McLaughlin - Editor in Chief