Twitter Goes Nuts Over Bannon Ouster: 'Wanted to Spend More Time Sucking His Own C*ck'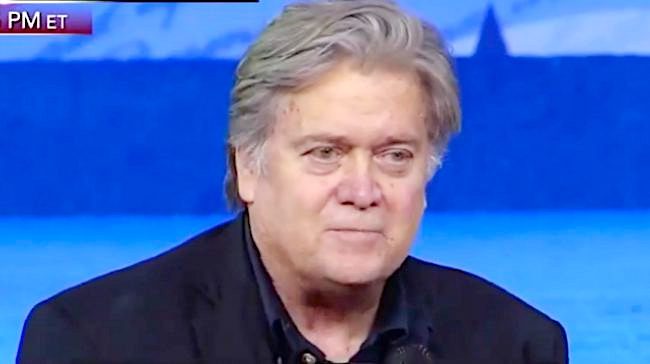 After days of rumors that he was on the outs in the Trump administration, the Drudge Report reported that White House chief strategist Steve Bannon was gone. The New York Times reported afterward that President Trump had told senior aides he had decided to remove Bannon from his role while Bannon insisted that it was his idea to leave.
This all comes in the wake of not only Bannon's clashes with much of the rest of the West Wing, but also his explosive comments to left-wing outlet American Prospect in which he undermined Trump's North Korea strategy, dismissed ethno-nationalism as a "fringe element" — while pushing Trump to focus on Confederate statues — and ripping his colleagues in the White House.
As one would expect with this huge news, there were all kinds of thoughts on Twitter.
Some jokes were made in relation to recent staff changes in the administration:
My sources tell me Bannon will be replaced by Hope Hicks.

— Seth Mandel (@SethAMandel) August 18, 2017
I was going to pre-write a Bannon Fired story last night but there's no time to pre-write about ALL the Trump people who might be fired

— Daniel Dale (@ddale8) August 18, 2017
as past history has shown us, everything completely changes in the WH when people are axed

— Gideon Resnick (@GideonResnick) August 18, 2017
Trump is trying to fire his way to success. Which, to be fair, is his brand.

— Stephen Gutowski (@StephenGutowski) August 18, 2017
I heard that they are making a new design change to the front of the White House… pic.twitter.com/PJcu3LDtk5

— Carol Roth (@caroljsroth) August 18, 2017
We also saw some takes on Bannon's association with the alt-right, something that has gotten renewed attention post-Charlottesville:
Steve Bannon's been fired, which means he can just go out into the world and work with white supremacists instead of leaking to them.

— Jared Yates Sexton (@JYSexton) August 18, 2017
Bannon has alt-left the White House [oh god, sam]

— Sam Stein (@samstein) August 18, 2017
Steve Bannon's been fired, which means he can just go out into the world and work with white supremacists instead of leaking to them.

— Jared Yates Sexton (@JYSexton) August 18, 2017
There was the inevitable dumpster fire GIF:
— (((Harry Enten))) (@ForecasterEnten) August 18, 2017
Mediaite columnist John Ziegler threw out this take:
Yeah, remember when Bannon got that thing done? That was so awesome… https://t.co/gIQZCNxeSI

— John Ziegler (@Zigmanfreud) August 18, 2017
We got these observations from well-known reporters:
Source close to Bannon: he's prepared to continue fighting for POTUS's agenda inside or outside; doesn't know what decision has been made.

— Jake Tapper (@jaketapper) August 18, 2017
WH: Kelly and Steve Bannon have mutually agreed today would be Steve's last day. We are grateful for his service and wish him the best.

— Jim Acosta (@Acosta) August 18, 2017
Ultimately you don't need a Bannon when you are a Bannon

— Glenn Thrush (@GlennThrush) August 18, 2017
Correct. He hit his self-prescribed expiration date https://t.co/sZ5YQRp4G1

— Maggie Haberman (@maggieNYT) August 18, 2017
And, yes, some Scaramucci jokes were thrown around:
Sources tell me that Steve resigned because he wanted to spend more time sucking his own cock.

— Tommy Vietor (@TVietor08) August 18, 2017
Bannon leaving to spend more time sucking own cock.

— Brian Beutler (@brianbeutler) August 18, 2017
Finally, there was this ominous message from Breitbart editor Joel Pollak over the ex-Breitbart chief being pushed out of the White House (Bannon is expected to return to the outlet):
[image via screengrab]
—
Follow Justin Baragona on Twitter: @justinbaragona
Have a tip we should know? tips@mediaite.com