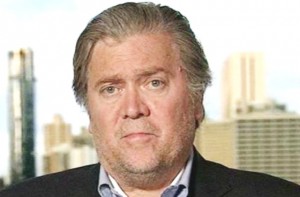 Multiple news outlets are reporting tonight on a pretty huge detail Steve Bannon's wife accused him of during divorce proceedings.
The former Breitbart chief has come under a lot of scrutiny since Donald Trump made him his campaign CEO. A report yesterday said that Bannon's ex-wife once alleged domestic abuse, something the Trump campaign may not have exactly known about.
And now it's being reported that in divorce proceedings, Bannon's ex-wife Mary Louise Piccard claimed that he was basically anti-Semitic. It came up as she talked about a school they considered sending their daughters to:
"The biggest problem he had with Archer is the number of Jews that attend," Piccard said in her statement signed on June 27, 2007.

"He said that he doesn't like the way they raise their kids to be 'whiny brats' and that he didn't want the girls going to school with Jews," Piccard wrote.

"I told him that there are children who are Jewish at (a competing school), and he asked me what the percentage was. I told him that I didn't know because it wasn't an issue for me as I am not raising the girls to be either anti-Semitic or prejudiced against anyone," she wrote.
Rachel Maddow also reported on it tonight, with some incredulity about the Trump campaign's response (or lack thereof):
Trump CEO Bannon's ex-wife in divorce papers: "He doesn't like Jews."#Maddow https://t.co/hXLQJdvxu1

— Maddow Blog (@MaddowBlog) August 27, 2016
Back in May, Breitbart ran a headline attacking #NeverTrump Republican Bill Kristol as a "renegade Jew."
According to BuzzFeed, this was how Bannon responded in a court filing:
I was never consulted about the selection of the proposed school and no effort was made to give me the opportunity to participate in the process.

I do not support the children attending a secular school and I do not agree with the or approve the unilateral selection made by (Piccard)."
And a spokesperson for Bannon issued this strong denial to BuzzFeed:
STEVE BANNON'S SPOX: pic.twitter.com/TVaFKTJ4vt

— andrew kaczynski (@BuzzFeedAndrew) August 27, 2016
[image via screengrab]
— —
Follow Josh Feldman on Twitter: @feldmaniac
Have a tip we should know? tips@mediaite.com
Josh Feldman - Senior Editor