Stormy Daniels Suing President Donald Trump Sets Off Social Media Frenzy: 'David Dennison'?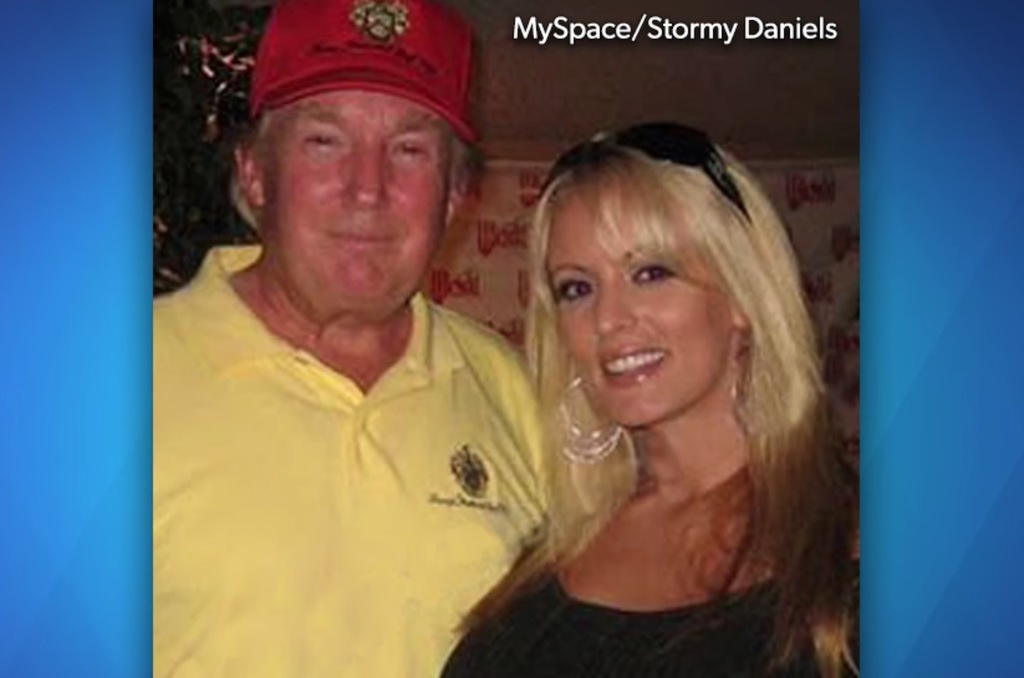 Stormy Daniels, the porn star who allegedly had an affair with Donald Trump, is suing the President of the United States.
Daniels strutted into this reality show we now call life after it was reported that she was paid $130,000 in hush money just before the 2016 election by Trump's lawyer Michael Cohen — all to keep quiet about an affair she allegedly had with Trump while married to third wife Melania.
As we all know now, Trump would go on to win the election and become leader of the free world — and Stormy would keep quiet about the affair, having signed a nondisclosure agreement in exchange for the hush money.
But now, in a drama-packed turn of events only fitting for this White House, Stormy is suing Trump to get out of her NDA, claiming it is invalid because the president never actually signed it.
Her suit alleges that while Stormy and Cohen signed the agreement, Trump — who is referred to throughout as "David Dennison" — never did.
The late night bombshell sent social media into a frenzy, with with some remarking on the magnificent alias used by the president, and others just reacting to the breaking news with astonishment:
counter ? sign ? your ? hush ? agreements ? https://t.co/STCeej5hbq

— Matt Bors (@MattBors) March 7, 2018
David. Dennison.

— Dave Itzkoff (@ditzkoff) March 7, 2018
Hello this is John Miller calling on behalf of David Dennison fucking on behalf of Donald Trump, world's biggest penis haver https://t.co/0XKrANv3Lh

— 224 days ago Trump promised 24-hr Hezbollah answer (@MattNegrin) March 7, 2018
Bernie Bernstein: My client, David Dennison, never met Peggy Peterson.

— Jeremy Newberger (@jeremynewberger) March 7, 2018
STTTTTTOOOOOORRRRRRRRMMMMMMYYYYYYY

— Asawin Suebsaeng (@swin24) March 7, 2018
alias on the caption page! pic.twitter.com/n8E6Wxgm6b

— southpaw (@nycsouthpaw) March 7, 2018
A first? Porn star sues sitting president. https://t.co/T3rABy70XU

— Jennifer Epstein (@jeneps) March 7, 2018
It's like a parody of what you'd imagine a Trump presidency to be like https://t.co/mLUunKaFtx

— Benjy Sarlin (@BenjySarlin) March 7, 2018
I want to give Stormy Daniels so many one dollar bills right now.

— Michael Ian Black (@michaelianblack) March 7, 2018
STORMY.
DANIELS.
IS.
SUING.
THE.
PRESIDENT.

— fooler initiative (@metroadlib) March 7, 2018
Cohn Quits
Seychelles Meeting Under Mueller Scrutiny
Stormy Daniels Sues

That's 15 news cycles worth of topics in one day

— Eric Schmeltzer (@JustSchmeltzer) March 7, 2018
The "hush agreement," refers to Trump throughout as David Dennison, and Clifford as Peggy Peterson. The side letter agreement reveals the true identities of the parties as Clifford and Trump.

Taking things alliterally and not figuratively https://t.co/nsXCTiD9bD

— John Dickerson (@jdickerson) March 7, 2018
Since Sam Nunberg:
-Trump says no CHAOS
-North Korea talks
-Kellyanne violates Hatch Act
-Trump admits Russian interference
-Trump likes watching aides fight
-Trump promises "very loving" tariffs
-Gary Cohn resigns
-UAE adviser cooperates with Mueller
-Stormy Daniels sues Trump

— Philip Rucker (@PhilipRucker) March 7, 2018
Don't know why there is no sun up in the sky, Stormy Daniels! She is suing @realDonaldTrump saying their agreement was invalid as he did not sign it.

— AprilDRyan (@AprilDRyan) March 7, 2018
Have a tip we should know? tips@mediaite.com
Aidan McLaughlin - Editor in Chief