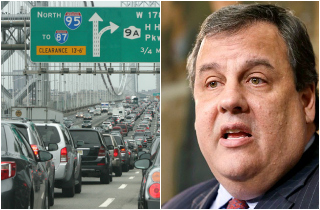 Documents obtained by North Jersey's The Record purportedly show a top Chris Christie aide plotting and then rejoicing in lane closures on the George Washington Bridge last September that the mayor of Fort Lee has alleged were retribution for his refusal to endorse Christie in the 2013 gubernatorial race.
"Time for some traffic problems in Fort Lee," appears to be the most damning statement in emails submitted to state lawmakers under a subpoena. The comment was made by Christie deputy Bridget Anne Kelly in an email to David Wildstein, a Christie-linked Port Authority executive who ordered the lane closures, and who resigned last month amid an inquiry.
The lane closures caused a week's worth of bottleneck traffic and hindered first responders and school buses. Christie denied that the lane closures were politically motivated, arguing that they had been ordered by the Port Authority as part of a traffic study.
RELATED: 'Bridge-Gate': CBS News Digs Into Scandal 'National Democrats' Think Might Sink Christie
The Record also cites a series of emails texts showing Wildstein and an unidentified respondent apparently delighting in the closure's effects:
In one exchange of text messages on the second day of the lane closures, Wildstein alludes to messages the Fort Lee mayor had left complaining that school buses were having trouble getting through the traffic.

"Is it wrong that I'm smiling," the recipient of the text message responded to Wildstein. The person's identity is not clear because the documents are partially redacted for unknown reasons.

"No," Wildstein wrote in response.

"I feel badly about the kids," the person replied to Wildstein. "I guess."

"They are the children of Buono voters," Wildstein wrote, making a reference to Barbara Buono, the Democratic candidate for governor, who lost to Christie in a landslide in November.
[h/t North Jersey]
[Image via Chris Pedtoa/North Jersey / AP Photo/Mel Evans]
——
>> Follow Evan McMurry (@evanmcmurry) on Twitter
Have a tip we should know? tips@mediaite.com