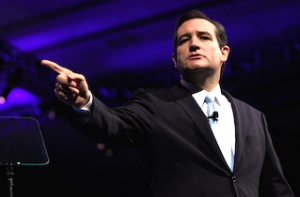 President Barack Obama announced on Wednesday that he will use a primetime address to the nation tomorrow night to announce his plan to protect up to five million undocumented immigrants from deportation using executive action. In response, Sen. Ted Cruz (R-TX) has published a defiant article in Politico calling on Republicans to block all nominees, executive and judicial, "so long as the illegal amnesty persists."
Under the headline, "Obama Is Not a Monarch," Cruz writes that the president's plan is "lawless" and "unconstitutional" and accuses Obama of being "defiant and angry at the American people."
Cruz then lays out his proposal to combat Obama's action:
If the President announces executive amnesty, the new Senate Majority Leader who takes over in January should announce that the 114th Congress will not confirm a single nominee—executive or judicial—outside of vital national security positions, so long as the illegal amnesty persists.

This is a potent tool given to Congress by the Constitution explicitly to act as a check on executive power. It is a constitutional power of the Majority Leader alone, and it would serve as a significant deterrent to a lawless President.

Additionally, the new Congress should exercise the power of the purse by passing individual appropriations bills authorizing critical functions of government and attaching riders to strip the authority from the president to grant amnesty.
Note that he says "the new Senate Majority Leader" and not Sen. Mitch McConnell. Cruz goes on to predict that Obama "will no doubt threaten a shutdown," the "the one card he repeatedly plays," though it is not clear how or why the president would do so.
During today's White House press briefing, ABC News' Jonathan Karl asked Press Secretary Josh Earnest to respond to Cruz's threats. Watch video below, via CNN:
[Photo via Flickr/Gage Skidmore]
— —
>> Follow Matt Wilstein (@TheMattWilstein) on Twitter
Have a tip we should know? tips@mediaite.com