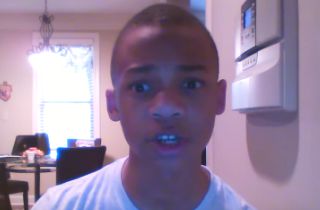 A 13-year old who got famous in the conservative media for videos criticizing President Obama and others is now saying he can no longer stand by the Republican party.
The first video on CJ Pearson's YouTube page––posted back in January––is titled "President Obama: Do you really love America?" He's posted plenty of other videos on issues from Hillary Clinton to radical liberals to plenty of race issues over the past years.
When the president invited Ahmed Mohamed to the White House after the now-infamous clock incident, Pearson posted a video asking, "When cops are gunned down, you don't invite them to the White House. You never did. But when a Muslim kid builds a clock, come on by. What is this world you're living in?"
And on top of all that, he worked for a time as chairman for Teens for Ted, a youth group backing Ted Cruz.
But Pearson told CNN in a report out tonight that he can no longer be a "champion of a party that turned a blind eye to racial discrimination."
He explained, "I don't want to be the conservative wonder kid that people follow because I make them feel good and like young people are part of their movement. I want to be followed because I'm the voice of a generation that doesn't have a voice at the table."
Pearson said he left Teens for Ted because Cruz wasn't doing enough youth outreach, and made it clear "my views on the issues aren't going to be dictated by one political platform or another." He also apparently started to think about this decision after the video was released of Laquan McDonald being shot multiple times by the police.
It's worth noting that one of his earliest videos, Pearson made an appeal to the Republican party to engage more with young people, saying "We can't continue to be a party of old white guys."
Now, there's another reason why Pearson's name might sound familiar. Back in September, he claimed that Obama blocked him on Twitter. The White House denied it and there were some questions about whether Pearson faked it. In the end, Pearson admitted to TheBlaze it was a hoax.
[image via screengrab]
— —
Follow Josh Feldman on Twitter: @feldmaniac
Have a tip we should know? tips@mediaite.com
Josh Feldman - Senior Editor