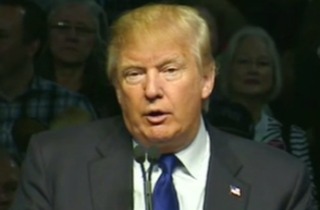 Donald Trump has strongly insisted that he did not know the disabled reporter he mocked this week, but the reporter is saying today that he's interacted with Trump multiple times in the past.
New York Times Serge Kovaleski got mercilessly mocked by Trump for the crime of saying that Trump was wrong about something. Trump has been claiming that thousands of Muslims in New Jersey cheered on 9/11. One paragraph in a post-9/11 piece Kovaleski wrote noted that there were some individuals brought in for questioning for "tailgate" style parties on 9/11 in Jersey City––a far cry from "thousands totally did it, guys."
But because Trump has been accused of mocking Kovaleski's disability, he's now saying he's never even met the guy. But that's not what Kovaleski told the Times yesterday:
Mr. Kovaleski said that he met with Mr. Trump repeatedly when he was a reporter for The Daily News covering the developer's business career in the late 1980s, before joining The Post. "Donald and I were on a first-name basis for years," Mr. Kovaleski said. "I've interviewed him in his office," he added. "I've talked to him at press conferences. All in all, I would say around a dozen times, I've interacted with him as a reporter while I was at The Daily News."
And on Twitter today, he highlighted various examples:
Here's a story I wrote in '89 after spending day with Trump on the Trump Shuttle. pic.twitter.com/pf0rjzqIaJ

— Serge Kovaleski (@sergenyt) November 27, 2015
Here is another story I did on Trump in the late 1980s. pic.twitter.com/mLO0otSZ0q

— Serge Kovaleski (@sergenyt) November 27, 2015
Well, tonight Trump released yet another statement saying that despite having "the world's greatest memory," he has no memory of Kovaleski:
I have met thousands of reporters over my life time. Very few treat me fairly but those that do, I have great respect for. Serge Kovaleski, who said he interviewed me in the 1980's is grasping at straws because he is embarrassed because after fourteen years, with no retraction, he tried to change his story.

His meeting with me may have been the highlight of his career, it certainly wasn't the highlight of mine. While I may have met him, I don't remember it – he made no impression on me. I have done many day in the life stories with reporters – the entire day in the life usually last for a very short period as far as actual reporting goes.

I leave this message to Serge Kovaleski who I look forward to meeting or meeting again someday. Don't change a story you wrote fourteen years ago – you lose all credibility.

The good part for Serge is that he has gotten more publicity in the last 48 hours than he has in the past 35 years – and he obviously loves it which is why he keeps pushing this ridiculous story – but that's fine with me.
[image via screengrab]
— —
Follow Josh Feldman on Twitter: @feldmaniac
Have a tip we should know? tips@mediaite.com
Josh Feldman - Senior Editor