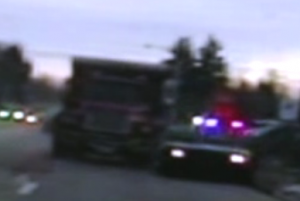 We don't ask for much from our police car dashboard cam videos. But wow, did Christmas come early this year.
We get this bit of holiday chase cheer (not to take car chases lightly, mind you, they're dangerous and wrong and illegal and all) from the men and women of law enforcement in Stow, Ohio. Stow's finest were on the case of a teenager who stole a dump truck and managed to take the rig on a 52-mile ride with police in pursuit–and attempting to form roadblocks.
Just to review the physics–police officers usually drive cars, and when you bring a moving dump truck driven by a wild teen together with a stationary police cruiser, well, dump truck usually wins. Just like in the movies.
Watch, from Fox, complete with the mandatory "I thought it was a movie" soundbite from a witness. But seriously…this video is must-watch:
Two police officers did sustain minor injuries, according to WJW-TV in Cleveland:
The driver continued fleeing through Stow and southbound on State Route 8.

"He took on the police, and he damaged several civilian vehicles. He attempted on Route 8 to strike civilian and police vehicles. Obviously, a very dangerous behavior when you're driving a dump truck," Lt. Ann Stirm of Stow police said.

Finally, after a 52.5 mile pursuit through several counties, the teen purposefully drove into a guardrail on Columbia Road, just east of I-77 near Strasburg.

He was taken into custody around 12:30 p.m. Saturday and faces numerous charges.

Multiple surrounding safety force agencies assisted with the pursuit. Two police officers sustained injuries during the ordeal. Authorities said they were treated and released from area hospitals.
Have a tip we should know? tips@mediaite.com