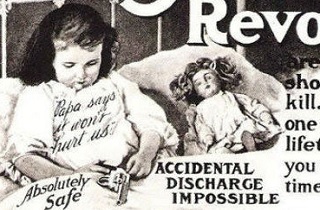 The past month or so has seen a seeming glut of shootings carried out by children and toddlers, and on Thursday, another tragedy was added to the trend. Two year-old Kinsler Allen Davis was just a few feet away from his father when the child found his father's handgun, and fired it. The bullet struck Kinsler in the head, and he was pronounced dead a few hours later at a Dallas hospital. Aside from mentions on several of MSNBC's primetime programs, the recent rash of child-involved shootings has gotten little attention from the national media, which has been concentrating on a tiny number of other stories.
Corsicana Police Chief Randy Bratton said the boy's 35-year-old father called 911 just before 9 p.m. and told dispatchers his son shot himself at the family's home on North 30th Street.

Kinsler Allen Davis was taken to Navarro Regional Hospital and then flown by helicopter to Children's Medical Center in Dallas, where doctors pronounced him dead just after 11 p.m. The boy was less than a month away from his third birthday.

A preliminary investigation shows the boy found the handgun inside a bedroom and fired it. The bullet hit him in the head, Chief Bratton said. The boy's father was in a walk-in closet in the bedroom where the boy was, feet away from where the accident occured. Initially, the chief reported the father to be in another room but he later said that was incorrect.

Bratton said the initial investigation points to the incident being accidental. No one has been arrested. However, after the investigation is complete, Bratton said the case will be forwarded to the district attorney's office to determine if any charges will be filed.
MSNBC's Rachel Maddow and Lawrence O'Donnell have each devoted short segments to recent child-involved shootings, but so far, the rapidly-mounting reports of children tragically gaining access to firearms has escaped the notice of the national media. That's a shame, because this story is one in which they could easily, painlessly fulfill their duty to serve the public, and almost certainly save lives.
It's true that there are political aspects to these stories, but kids getting their hands on guns is something we should all be able to agree shouldn't happen. Television journalists with large audiences could feature these stories as a way to promote awareness of a lesson that Corsicana Police Chief Randy Bratton voiced when discussing this most recent tragedy:
Bratton urged gun owners to take extra precautions to prevent accidents like this in the future.

"Even if you have a lot of experience with firearms you still need to take additional precautions to ensure this doesn't happen," he said.
Without discussing a single gun law or policy, Jake Tapper could, for example, detail the tragic litany of recent shootings by children and toddlers, and maybe interview Dr. Sanjay Gupta about some of the alarming facts about children gaining access to firearms. Joe Scarborough could ask the NRA to stop telling parents not to lock their guns up. It's hard to imagine that even the most bitter opponent of gun reforms, as a parent, would see segments like that and not double-check the security of their weapons, or make sure they didn't leave one in the chamber by accident, or be just a little bit ore vigilant the next time they take their guns out. That equals lives saved, more lives than another segment on Jodi Arias or the Cleveland kidnappings will save.
Have a tip we should know? tips@mediaite.com