Text Messages Show Aide Saying Chris Christie 'Flat Out Lied' About Bridgegate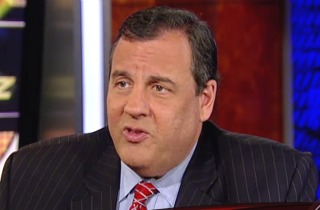 According to a new court filing, an aide to Republican New Jersey Governor Chris Christie texted another aide that Christie had "flat out lied" when offering statements to the press about the Bridgegate scandal.
Christie was asked during a December 2013 press conference whether anyone of his staff had ordered the lane closures on the George Washington Bridge. Christie denied that they had, and even specifically said his campaign manager Bill Stepien had assured him he had nothing to do with it.
But a document filed by the defense team of former Port Authority official Bill Baroni shows that Christie's remark prompted a flurry of text messages between his aides. "Are you listening?" texted Christina Renna to her coworker Peter Sheridan. "He just flat out lied about senior staff and Stepien not being involved."
But Sheridan was unconcerned. "Gov is doing fine. Holding his own up there," he texted back.
"Yes. But he lied," Renna responded. "And if emails are found with the subpoena or ccfg [Chris Christie for Governor] emails are uncovered in discovery if it comes to that it could be bad."
According to Baroni's lawyers, Renna "deleted [the exchange] after the Legislature had issued seven subpoenas… never told the Legislature about the texts, and… testified under oath before the Legislature in a manner not consistent with the existence and deletion of those texts."
UPDATE (1:53 PM ET): Governor Christie's office have issued the following statement in response:
"The Governor's statements have been clear. Nothing contained in this text message changes that in any way. He stands by those statements completely and unequivocally."
[Image via screengrab]
——
>>Follow Alex Griswold (@HashtagGriswold) on Twitter
Have a tip we should know? tips@mediaite.com