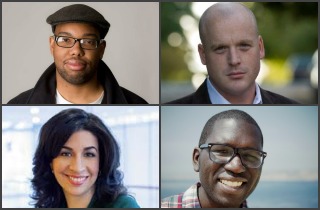 A year ago, a list called "Best Reporting on Race" wouldn't have existed. If it did, it would likely be viewed as either condescending, irrelevant, or some piece of hyper-progressive sensitivity propaganda, depending on where you fell on the political spectrum — and the general response would be: "Why even bother doing this, racism is over. Black president."
But in 2014, race issues were, to put it mildly, a hot topic.
Stories about race dominated the national conversation this year. Prominent figures were pilloried for racist statements. (One guy lost an entire NBA team over them.) Companies and organizations were called out for casual and serious acts of racism. And, of course, the deaths of Michael Brown and Eric Garner led to nationwide protests and an increasingly agitated debate over how police engage the black community/a>.
In an industry where 13.34% of journalists are minorities, the news cycle forced the predominantly white mainstream media to reckon with racial issues on a regular basis. (Case in point: Fox News primetime host Megyn Kelly argued that white privilege existed, and that's likely an argument you wouldn't have seen on the network a year ago.)
The renewed coverage shouldn't be surprising: minorities are on track to outnumber white Americans within the next thirty years, and these issues have existed for decades. But this year proved, quite viscerally, that racism — from the small interactions prompted by racial differences, to actual people dying because of racial disparities — isn't over. It's just a lot more muddled.
Here are some of the best journalists and reporters who tackled contemporary race and racism issues this year. We might not have all the best writers, but it's a young field — and heck, by 2015, we might even have a "worst" list.
Ta-Nehisi Coates, The Atlantic
He had to be here. One could simply point to "The Case for Reparations", an essay published this year, to justify his place on this list. (And "The Case for Reparations," published two months before the deaths of Brown and Garner, could not have been better timed.) But not only did Coates slap America in the face with a portrait of how African-American oppression endured long after the end of slavery (hint: decades of systemic housing discrimination, leading to poverty and increased policing of the black community), he also set a precedent for contemporary race writing: to solve the problems of today, one must confront history. And as a writer, Coates is also good at confronting his critics: He's quite adept at debating people on Twitter and, according to the Columbia Journalism Review, can even brave the comments section of his posts on The Atlantic (he's the second highest-ranked commenter on the site).
—
Jamelle Bouie, Slate
Though he might be characterized as a lightning rod and a kneejerk liberal due to the fact that he's a dude writing about race issues at Slate, Jamelle Bouie will adamantly say he doesn't have an agenda to push. But the way he covers American politics, elections, and general news acknowledges how much race matters in his beat: "Without race, you can't have a full picture of inequality, of education, of inner-city poverty, of health disparities, of political participation," he describes his expertise. "Of everything, really."
—
Radley Balko, The Washington Post
Behind every racially-tinged injustice lies an institutional bulwark that supports it, and Radley Balko has probably written about it at some point. From the drug war to mass incarceration to militarized police, Balko has been one of the foremost writers and researchers on each subject, effectively becoming a one-stop shop for all things "abuse of power." Throughout his work, the libertarian Balko frankly and thoughtfully acknowledges that minorities suffer the most from this broken system and, as the events in Ferguson and Staten Island unfolded this year, he could pinpoint exactly when and how the African-American community had been failed. "If you were tasked with designing a regional system of government guaranteed to produce racial conflict, anger, and resentment," he memorably once wrote, "you'd be hard pressed to do better than St. Louis County."
—
NPR's Code Switch
Okay, so they're technically a blog and not just one journalist. But since its inception, Code Switch — named after the linguistic term for "mixing languages or patterns of speech in conversation" — has become a surprisingly sane place where even-keeled, intelligent people have lively conversations about race and ethnicity in pop culture, and the places where they bump up against each other. The zen, context-heavy format of NPR helps their coverage from devolving into outrage-fests. In a world full of "social justice" Tumblrs and Suey Parks, that is hard — and, frankly, a relief.
—
Tanzina Vega, New York Times
Last year, the Times announced that Vega was moving from the business section to the newly-created "race and ethnicity" beat as its first (and, we believe, only) reporter. Since then, she's written compelling stories about race and ethnicity in places where you wouldn't even think there'd be stories — minority gun owners, anyone? — as well as the places where it matters most: the classroom, the checkbook, the television screen, the election booth.
(Hint, hint, New York Times, you should hire more people for this beat — hint, hint.)
— —
>> Follow Tina Nguyen (@Tina_Nguyen) on Twitter
Have a tip we should know? tips@mediaite.com