The Fukushima Fifty: Sacrificing Their Health (And Maybe Lives) For The Greater Good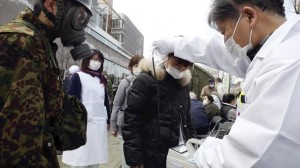 The Fukushima Fifty is a group comprised of 180 power plant workers – working in rotating shifts of 50 – doing all they can to stop the Fukushima plant's nuclear reactors and fuel rods from leaking additional radiation. Some are calling their task a "suicide mission," while other nuclear experts (like Jere Jenkins, the director of Radiation Laboratories at Purdue University) assuring a worried world that they know exactly what they're doing, with all the proper precautions in place. Which is all the more reason to ask: Who are these workers?
As it turns out, not too much is known about the Fukushima Fifty because plant operators prefer that the workers – most likely technicians, with at least one nearing retirement age – remain anonymous.
The workers' relatives, however, are making sure the world is aware of the huge sacrifices their loved ones are making. The Daily Mail shares how one woman revealed to Japanese television that her husband had sent her an email urging her to "please live well," and that he wouldn't be returning home for a while. Another relative, a young girl who writes under the user name @nekkonekonyaa, Tweeted the following (translated by ABC):
My dad went to the nuclear plant, I've never seen my mother cry so hard. People at the plant are struggling, sacrificing themselves to protect you. Please dad come back alive.
Another girl shared that her father is "still working at the plant — they are running out of food…we think conditions are really tough. He says he's accepted his fate…much like a death sentence…"
The workers take turns sleeping and eating in a small decontaminated area between shifts. Their main task is feeding seawater into the reactor in an effort to keep it cool, in addition to collecting date and making whatever mechanical adjustments they need to. Meanwhile, helicopter pilots are doing their part to help by dumping water onto the reactors for the same purpose.
As the anonymous workers face the possibility death – or of cancer and other dire health risks – a concerned world continues to watch their progress… and hope for their safe return amid conflicting reports about the safety of their mission.
Image via PBS NewsHour
Have a tip we should know? tips@mediaite.com