The Guardian Brilliantly Reimagines The Three Little Pigs In A World Of Social Media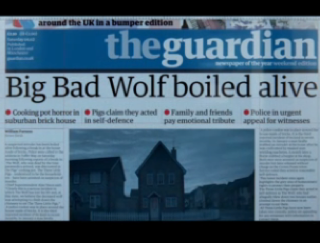 Today, UK newspaper The Guardian released an ad for its "Open Journalism," their new collaborative campaign that aspires to promote a new model of journalism, one in which the reader and investigators are just as important in finding information and making sense of evidence as reporters. To demonstrate its power to, as the ad puts it, get "the whole picture," it takes a classic fairy tale and retells it in the age of Twitter, turning "The Three Little Pigs" into an action-packed, conspiracy-laden film noir where the death of The Big Bad Wolf may have somehow inadvertently led to the development of the Occupy movement.
RELATED: The Guardian Humbly Tries To Explain Julian Assange In New Wikileaks Profile
The ad is airing on Channel 4 in the UK, and tells the story of the Three Little pigs as The Guardian would cover it today. It begins with the arrest of the pigs in the remaining brick house for the death of the Big Bad Wolf, while the online world vehemently defended the pigs' innocence. It gets darker from there, as the pigs are exposed for having committed insurance fraud by killing the Big Bad Wolf and collecting the insurance money, casting a wider net in the media on insurance fraud as a whole that compels thousands to rally in protest against big banks. As the paper itself explains:
Breaking on Channel 4 at 10.10pm on Wednesday during Ten O'Clock Live, the two-minute TV ad features a 21st-century twist on the tale of the three little pigs, with the aim of showcasing the Guardian's multimedia credentials and open journalism philosophy. The ad will run at the same time across E4, More4 and Film4.

The TV ad follows a developing story of three little pigs being arrested in a police raid, via the Guardian's coverage and interaction with readers and internet users through the newspaper, website, blogs, tweets and video.
Having watched it several times, the link between the pigs' insurance fraud and the faux-Occupy movement in the ad appears somewhat tenuous, since the murder of Big Bad Wolf if far more of a newsy OJ Simpson-esque killing than the Housing Crisis. Other than that, however, it is good to know that The Guardian will not only be there to cover the news, but use the resources of its readers to get a more complete story.
The video from The Guardian below:
Have a tip we should know? tips@mediaite.com