The Guardian Humbly Tries To Explain Julian Assange In New Wikileaks Profile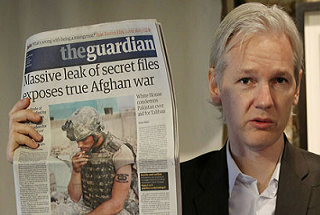 Call it a tale of two media break-ups. Shortly after the New York Times' Bill Keller penned a scathing (and shockingly personal) account of what it was like to work with Julian Assange, UK collaborator The Guardian has done the same. While their rendition of experience does not fail to leave out the requisite depiction of Assange as overbearing and paranoid, the overall tone of the story, rather than vengeful, is surprisingly self-effacing.
The author, Ian Katz, opts not to begin the story at its chronological start, nor choose a particular public highlight from the Wikileaks saga as a starting point. Instead, he begins with his most memorable moment– mistakenly sending an entire Wikileaks file dump to the BBC. Describing security measures with Wikileaks material as "mildly comical," he recalled the time when, instead of emailing the Nick Robinson on his staff, instead emailed that of the BBC. He was fortunate, he explains, that the other Robinson is a "gentleman."
He goes on to describe the communications with Wikileaks for some time, and provides little new information– it was secretive, difficult, and the staff consistently felt as if they were in a spy movie. There's little evidence anywhere that this behavior is not company policy and, for the reporters, one gets the sense that they were having at least a little fun with it.
Then Katz finally arrives at the juicy, inevitable personal profile of Assange and, in true anti-climatic fashion, this is as vicious as it gets:
Despite the slight air of paranoia, Assange came across as ferociously intelligent, with a control freak's mastery of detail and an infectious enthusiasm for his information insurgency. Sometimes he would interrupt a conversation to rhapsodise about a particular cable. At times he had the detached air of a chess grandmaster playing a dozen games at once – later I found out that's because he was usually conducting numerous different chats simultaneously.
That's it. Contrast this to some of the meaner profiles from Keller's piece, the following likely the most memorable to many readers:
"He was alert but disheveled, like a bag lady walking in off the street, wearing a dingy, light-colored sport coat and cargo pants, dirty white shirt, beat-up sneakers and filthy white socks that collapsed around his ankles. He smelled as if he hadn't bathed in days."
Whatever the animus between Wikileaks and The Guardian, it certainly has nothing on how the New York Times feels. Of course, the latter collaboration ended in a much more abrupt and hostile fashion, and even through threats of legal action and becoming yet another object of the military-industrial complex out for blood in Julian Assange's mind, Katz concludes that it didn't have to be this way and, more candidly, nearly suggests that the paper would be glad to work with Wikileaks again. "The collaboration over the leaked war logs and embassy cables," Katz writes, perhaps looking through the rose-tinted glass of nostalgia, "was a model of what traditional media and the new breed of digital subversive can achieve together." This sort of talk– and even the aforementioned descriptions of working with Assange himself– don't color the bulk of the piece, however.
Concluding that, thanks to Wikileaks, he finally updated his address book so as not to send secret files to the BBC, Katz's is a stroke of genius, so much as any possibility of reuniting with Assange is concerned. He feeds directly into Assange's perception of old media– clumsy, incompentent, perhaps good-natured but unable to do anything right without his help– and simultaneously avoids the trap Keller's piece fell into: being perceived as bitter or harboring long-bottled-up resentment. The ball now is in Assange's court and, history seems to indicate, will end up in a literal court soon enough, Katz's bridge-building aside.
Have a tip we should know? tips@mediaite.com