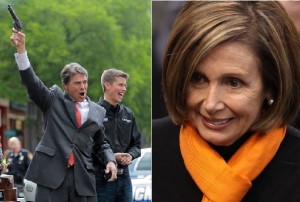 I literally had to triple-check this to make sure it wasn't some spoof site set up to look like The Hill, but it is the real deal. The Hill's GOP12 blog is reporting that Texas Gov. Rick Perry has challenged House Minority Leader Nancy Pelosi to…a debate. Yes, that Rick Perry.
It gets better, though. The site has obtained a letter from Gov. Perry, to Leader Pelosi, in which he challenges her to said debate on Monday in Washington, or if that doesn't work…someplace in Iowa.
Here's Perry's invitation to Pelosi, via GOP12:(full letter here)
"I am in Washington Monday and would love to engage you in a public debate about my Overhaul Washington plan versus the congressional status quo.

I think it would be a tremendous service to the American public to see a public airing of those differences. Let the people decide.

If Monday doesn't work, perhaps we could find a time in Iowa over the course of the next month to discuss these issues in front of the people of America's heartland."
Perry's plan, which calls for Congress' pay to be cut in half, along with their time in Washington, drew sharp criticism from House Minority Whip Steny Hoyer. He accused Perry of "pandering to the Tea Party," and questioned the seriousness of the plan. Perry's letter to Pelosi is pegged to Hoyer's "outburst over my 'Overhauling Washington' plan."
Aside from the dubious merits of his plan, this debate idea makes about as much sense as 1986-era Bill Buckner challenging Ozzie Smith to a nationally televised game of pepper. The thing Perry should least be trying to remind people of, at this point, is his performance in debates, and there's really no upside to such a challenge.
If he's serious about this, which means he thinks Pelosi actually will drop everything on Monday (fingers crossed), and that he can beat her in such a debate, the best case scenario is that he pulls off a Bayonne Bleeder-style upset against an opponent he's not even running against. More than likely, Pelosi blows him off, and he just looks weak and desperate. Worst case: Pelosi accepts, and destroys him like a womp rat.
On the other hand, if this is just a publicity stunt, it serves only to remind people of his weakness in debates, and fosters a perception that he's trying to look tough next to someone he's not even running against.
Perry's plan is an obvious ploy to exploit record dissatisfaction with Congress, and it might have had some political impact if he hadn't gotten sidetracked into a feud with Steny Hoyer. Instead, he's punching down at members of the House minority, and losing.
(h/t TPC)
Have a tip we should know? tips@mediaite.com