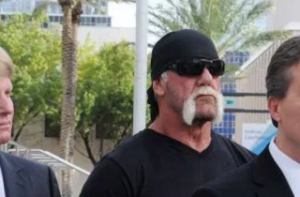 Hulk Hogan is a public figure whose reputation has had its ups and downs. He was borderline mythical in his wrestling days, inspiring legions of Hulkamaniacs. Sadly, the downs were soon to follow the glory days, starting in 2005 with Vh1's Hogan Knows Best, which was little more than a failed years-long campaign to make daughter Brooke Hogan famous while Hogan himself pretended he didn't want her to be famous. (The Aughts were heady times for reality television producers and fame seekers; the possibilities seemed endless.)
The show ended in 2007, which is the same year that Hogan's son, Nick Hogan, drunkenly crashed his car, leaving a friend who was inside needing around-the-clock care for the rest of his life. Hogan remained relatively low-key from then on, appearing in a few movies, divorcing wife Linda Hogan, getting political, and, of course, suffering the blowback that comes along with having the audio of a racist tirade released. Hogan was scrubbed from the WWE website after a rant of his laced with racial slurs appeared on the Internet. He claims media giant Gawker is to blame for the audio's release.
That brings us squarely to today. You see, the explosive audio isn't the only thing Hogan is upset with Gawker over. Actually, for this other thing, "upset" isn't the word. Today, the jury selection for the trial of the $100 million lawsuit brought forth by Hogan after Gawker published an excerpt from his sex tape (with commentary!) begins, so, yeah, "upset" is an understatement.
In 2004, probably while in talks with Vh1 for Hogan Knows Best and living his best life, Hogan had sex with his best friend's wife. That best friend, a Tampa radio personality called DJ Bubba the Love Sponge Clem, secretly filmed the whole thing, burned it to DVD, put the disc in a drawer, and allegedly forgot about it until Gawker leaked parts of it in 2012, long after the spark had left the eye of the final Hulkamaniac and Vh1's execs had said their tearful good-byes to the lucrative era of Celebreality.
Time for the real main event!"I AM" going to slam another Giant! Hogan vrs Gawker! Watcha Gonna Do Gawker? Only Justice Brother HH

— Hulk Hogan (@HulkHogan) March 1, 2016
Now, today, the defamation trial of the century is beginning in a small courthouse in St. Petersburg, Florida. Anna M. Phillips of the Tampa Bay Times is covering the trial and revealed these details
Apart from a judge's ruling that Hogan go by his real name, Terry Bollea, the trial has the makings of a choreographed fight … Bollea, 62, who is expected to testify, has received the judge's permission to wear a "plain bandana" to court, a toned-down version of his signature Hulk Hogan costume.
Best of all, Phillips is live-tweeting the jury selection as it begins today. She will hopefully do this for the remainder of what looks like it will be a three-week trial:
For the record, @HulkHogan is wearing his dress bandana today.

— Anna Phillips (@annamphillips) March 1, 2016
Though the case is sure to be theatrical and definitely has a humorous undertone for those of us who link Hogan inextricably with the scene in HKB during which the living legend kicks his wife's trainer off his property for insulting wrestling, it is still very serious. After all, at the base of the case is the question How much privacy can a celebrity reasonably expect? And if Hulk Hogan, whose fame has plateaued for almost a decade now, is a celebrity for whom privacy is soundly denied, what hope do the rest of us have that our best friends won't record our most intimate moments and allow (or facilitate) the acquisition of those moments by Nick Denton or whoever ascends the ranks of new media superstardom after he's gone?
[image via screengrab]
For more from Lindsey, follow her on Twitter.
Have a tip we should know? tips@mediaite.com