The 'Stump for Trump' Girls Just Said on CNN That Marco Rubio Had 'A Gay Lifestyle'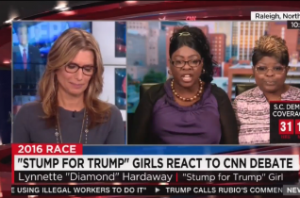 You know those "Stump for Trump Girls, Lynette "Diamond" Hardaway and Rochelle "Silk" Richardson? Well, in case you don't follow them on Twitter and didn't get the memo, they were on CNN this morning. As usual, the sisters caused quite a stir with the few minutes they were given.
.@DiamondandSilk will be on @CNN @CarolCNN at 10:30am ET talking about their man @realDonaldTrump and the #GOPDebate pic.twitter.com/I7Lp463YrF

— Diamond and Silk (@DiamondandSilk) February 26, 2016
They were invited on to talk about last night's debate, which was a pretty explosive affair. While there, they told Carol Costello that they were fairly sure that Donald Trump's rival Marco Rubio was gay, at least in his past, if not now.
Diamond said, "When I look at Marco Rubio, Marco Rubio told us to Google Donald Trump, but I did one better: I Googled him and when I Googled him, you know, he owes America and the gay community an apology."
"That's right," interjected Silk.
"It sounds like he may have had a gay lifestyle in his past!" she concluded.
"What?" shrieked Costello, clearly shocked. "No, Lynette… Lynette."
The anchor, obviously not looking forward to hearing from the Rubio campaign later, swiftly moved to another topic.
They went on to talk about Trump's habit of decrying immigrants for taking American jobs while giving jobs in his hotels to immigrants, which neither Diamond nor Silk took offense with.
[image via screengrab]
For more from Lindsey, follow her on Twitter.
Have a tip we should know? [email protected]