Who is Cedric Ford? Kansas Shooting Investigation Turns Up Lengthy Criminal History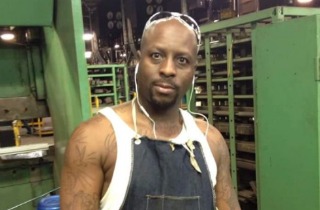 New details are surfacing about Cedric Ford, the Excel Industries employee who allegedly killed three people and wounded sixteen others before authorities stopped his rampage in Hesston, Kansas. Law enforcement and witnesses have spoken to a variety of news sources, and have offered a look into the gunman's history, as well as what might have set him off.
While the investigation is still ongoing, Harvey County Sheriff T. Walton told the media that Ford was given an order of protection about an hour and a half before he attacked. Such documents are usually given out for cases of domestic violence.
"I can't give you details but it would be someone he was in a relationship with," Walton said to KWCH.
Further police analysis of the scene confirms that Ford died in a gun battle with a cop inside of the lawn mower company. Walton gave credit to his force, saying that with between 200 and 300 workers in the building at the time, "this would be a whole lot more tragic" without the heroism of the officer involved.
The Washington Post collected a variety of accounts from employees and witnesses about what Ford was like as a person. Some opined that he "didn't seem like an angry person" and that he was a "mellow guy," but there were also mentions that something was "real off" about him, and that he "thought everybody was out to get him."
The Post also pointed to Ford's extensive criminal history, with public records showing charges for drugs, burglary, grand theft auto, and fleeing police officers. A former romantic partner of his also allegedly told reporters that Ford was "alcoholic, violent, depressed," and "in desperate need of medical & psychological help."
You can watch a report on the incident in the video above, via ABC.
[image via Twitter]
Have a tip we should know? tips@mediaite.com