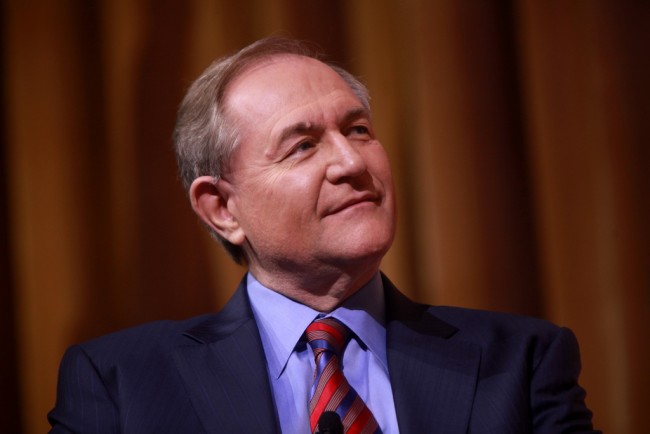 Jim Gilmore is the name of the man who was the Governor of Virginia from 1998-2002, and is also a candidate to win the Republican nomination for President. No really, I swear, he's an actual guy in the GOP field who is still technically a candidate for President. For those of you staring at your computer screens and mouthing the words of his name to yourself, searching for some faint trace of recognition, don't feel badly. His poll numbers have been so abysmally low that he has not even qualified for the "kids table" GOP debates, so there has been exact zero national exposure of his candidacy.
I felt as if the overall Jim Gilmore coverage has been lacking, so I wanted to pull together the best in Gilmorian news to make sure you didn't miss out on this man who, again, is actually running to be President.
Verified Today, President Tomorrow
Only a day after The Washington Post reported that Gilmore has had a hard time getting the folks at Twitter to properly accredit his account with the blue "verified" distinction, it appears as if the people's voices have risen in unison. He took to the social media platform this afternoon to share the good news of his successes, even tagging WaPo writer Elise Viebeck in the process.
Today I was @verified on @twitter. I'm somebody now! @eliseviebeck pic.twitter.com/STjh4ootf3

— James S Gilmore (@gov_gilmore) October 30, 2015
For those of you keeping score at home, that's a quote from and photo of Steve Martin in the 1979 comedy The Jerk. As he says in the film, "Things are going to start happening to me now!". Congrats Jim, you earned this one man.
That Campaign Press Release
As the rest of the Republican field was preparing to duke it out Wednesday night on CNBC, the Gilmore camp unleashed a press release in response. The point? To announce that Gilmore would be live-Tweeting the entire debate from his still-then-unverified-account. Regardless, Gilmore showed some serious chops with this zinger:
"The Republican National Committee and CNBC may keep me off the stage this evening, but I will not be silenced… Actually, by their actions they are making it plain that I am the real outsider in this race."
Yes Governor, you're absolutely right.
The Live Tweeting Retweeted 'Round the Beltway
As promised, Gilmore did not disappoint when it came time to slip into something comfortable and air his grievances. Look at him stick it to RNC chair Reince Priebus with this one:
#CNBCGOPDebate will I be invited to the next debate if I promise to use the word "crap"?

— James S Gilmore (@gov_gilmore) October 29, 2015
He managed to use the medium to his advantage, expressing his own points of view and get it out there into the sphere of conversation:
I chaired the commission on Internet Sales Taxes & Commerce and kept government from imposing a nationals sales tax. https://t.co/sRdzz16fmM

— James S Gilmore (@gov_gilmore) October 29, 2015
And of course, like any good GOP candidate, Governor Gilmore even managed a slight against Democratic frontrunner Hillary Clinton:
Commercial on #CNBCGOPDebate calls for energy voters. There will be no energy voters for #keystonepipeline flip flopping #HillaryClinton.

— James S Gilmore (@gov_gilmore) October 29, 2015
Take five, Hillary. You just got scorched by the Gil.
Can Rubio Withstand This Gilmore Onslaught?
One of the loudest meekest voices crying for Senator Marco Rubio to resign amid his voting controversy was Gilmore himself. On the official Gilmore For America MS Paint Doc homepage, Governor Gilmore is quoted as saying the following:
"Essentially, Sen. Rubio has abandoned his post and expects the taxpayers of Florida to continue subsidizing his campaign for the White House despite his choice to campaign instead of representing the people who elected him to the Senate. He is being paid by Florida taxpayers to be on the job in the Senate representing their interests. If he is not going to do that, I don't see how in good conscience he can campaign for president without resigning from Senate."
Hey, as we reported this morning, Rubio canceled an Iowa event to return to Washington and cast a vote in the Senate. I will assume that this move is due entirely to the pressure from the Gilmore camp, so I chalk this up to a fat Gilmore "W".
So there you have it: an objective look at this week's top headlines in Jim Gilmore news. Be sure and follow along with Mediaite's devoted coverage to Governor Gilmore's road to the White House all the way through Tuesday, November 8, 2016.
[image via Flickr]
—
>> Follow J.D. Durkin on Twitter (@MediaiteJD)
This is an opinion piece. The views expressed in this article are those of just the author.