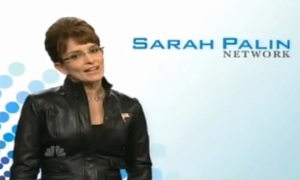 Last night Tina Fey hosted Saturday Night Live and reprised her role as former Governor Sarah Palin by introducing an Oprah-style television network called "The Sarah Palin Network." Among the great show parodies previewed, perhaps most relevant for this site was "Hey Journalist, I Gotcha," in which Palin re-edited interviews to make it appear like her interviewers were "woefully unprepared."
Writing for AP, Jake Coyle reports:
Tina Fey reprised her impression of Sarah Palin on "Saturday Night Live" while hosting the NBC sketch comedy show Saturday night. It was Fey's first performance as the former Alaska governor since her iconic impressions during the 2008 presidential campaign when Palin was the Republican vice presidential candidate.

Fey appeared as Palin in a sketch introducing a mock "Sarah Palin Network," satirizing Palin's entry into media. Palin recently launched the program "Real American Stories" on Fox News Channel and will soon begin production on "Sarah Palin's Alaska," an eight-part series for TLC.

Appearing as Palin in a leather jacket with an American flag pin, Fey introduced a lineup of shows like "Tea Party Wheel of Fortune" (the puzzle read "Obamar is a terrist"), "Are You Smarter than a Half-Term Governor?" and "30 Main Street," a parody of her own "30 Rock."

Other fake shows included "Hey Journalist, I Gotcha," in which Palin re-edited interviews to make it look like her interviewers – like CBS' Katie Couric – were "woefully unprepared." Also touted was a spinoff starring husband Todd Palin (played on "SNL" by cast member Jason Sudeikis) as a renegade police officer transferred from Alaska to New York.
Have a tip we should know? tips@mediaite.com