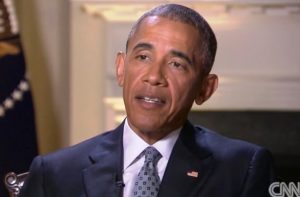 On Friday, the world will watch the steps of the U.S. Capitol Building in Washington D.C. at noon as Donald Trump gets sworn in as our nation's 45th Commander in Chief. Following the event, Trump will march to the White House and begin a long weekend of galas, balls, and meetings to kick off his administration.
But as for his predecessor, President Barack Obama? It'll be time to relax.
According to a new report from TMZ, Obama and his family will be leaving for sunny Palm Springs, California on Friday afternoon while the Beltway prepares for the start of the Trump presidency. And just in time; the weather in Palm Springs is expected to be in the mid-to-high 60s for most of the week.
TMZ writes in its report further:
Our sources say at 2:45 PM they will leave Andrews on Special Air Mission 29,000, the plane that will take them to Palm Springs. It's the same plane that Obama used as president, but it won't be called Air Force One.
Reportedly, the Obama will not have a government plane to fly back to Washington D.C. in, where they have already announced they will continue living while their youngest daughter finishes school in the area.
Palm Springs, CA was perhaps most famously home to a property of Frank Sinatra, who long touted it as the "Western White House" due to its prominence in preparation for a visit by President John F. Kennedy. Those High Hopes were quickly dashed however; due to Sinatra's ties to mob boss Sam Giancana, the President eschewed Sinatra's invitation.
President Obama has repeatedly joked that when his tenure as Commander in Chief is over, it will be time at long last for sleep. "I'm not setting my alarm. That I'm certain of. That I am absolutely positive of," he told 60 Minutes this weekend. "I'm going to try to get some sleep."
[h/t TMZ]
Have a tip we should know? tips@mediaite.com