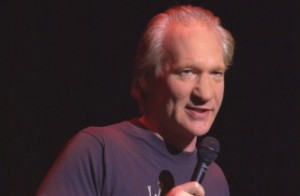 Real Time with Bill Maher starts its new season this Friday––inauguration day––and its eponymous host is genuinely worried about what President Donald Trump could do.
In an interview with the New York Times' Jim Rutenberg, Maher said that Trump "lives for vengeance" and it now occurs to him that "no one's been meaner to him than me."
You may recall that rather infamous moment a few years ago when Maher, mocking birtherism, jokingly offered Trump to donate money to charity if he produced his birth certificate to prove he's not the son of an orangutan. Trump ended up producing his birth certificate and suing Maher over failure to deliver on his end.
Maher mercilessly mocked Trump and his lawyer over the suit and said at the time that the law shouldn't be a "toy" for rich people to play with.
Looking back on that, Maher doesn't regret the bit (the lawsuit never actually went anywhere), but he does worry about what it could portend:
"It was worth it in comedy material… But you definitely spent money."

That is, Mr. Maher had the money to pay for the courage that another comedian may not have been able to afford. He takes it as a harbinger.

"No one knows what this man is capable of," Mr. Maher said. "I never, ever, ever felt worried — it never crossed my mind — that George Bush would do something crazy, even though I knew he hated me. He never sued me for a joke."
He also worries about the FBI being politicized and said, "When the internal police department is politicized, that's a place I don't want to be on the wrong side of — I mean, that's fascism."
However, Maher does not believe the answer for Trump is for the left to become more "insular." He recalled Meryl Streep's Golden Globes speech and said "liberals talking to themselves, which they are very good at doing," doesn't really accomplish much.
Rutenberg also spoke to Kellyanne Conway, who said Trump wouldn't be using tools of the state in a political way. And she too believes that comments like Streep's are unhelpful, saying "Folks are unnecessarily flattering themselves to think for two seconds that Donald Trump is going to call out the big dogs to make their lives miserable."
[image via Randy Miramontez/Shutterstock]
— —
Follow Josh Feldman on Twitter: @feldmaniac
Have a tip we should know? tips@mediaite.com
Josh Feldman - Senior Editor