Tom Cotton and Iranian Minister Battle over Who Knows More About U.S. Constitution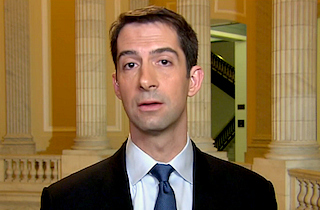 Last month, Sen. Tom Cotton (R-AR)'s efforts to sink the U.S.-Iranian nuclear deal, via the GOP Senate equivalent of an angry online chain email, failed miserably. The letter itself, addressed to the Iranian government, claimed that the Persian entities behind the negotiations "may not fully understand our constitutional system," and then proceeded to explain how the Senate, or the US electoral system, could easily revoke the resolutions reached by the diplomats in Lausanne.
But during a talk at New York University, Iranian Foreign Minister Javad Zarif was like, psssssh, I knows the Constitution well, you punkass.
Zarif, who is visiting New York City for the U.N. Nonproliferation Treaty Conference, specifically called out Cotton by name and affirmed that once a deal was completed between the US and Iran, the U.S. Security Council will drop the sanctions against Iran, "whether Sen. Cotton likes it or not."
And then, according to US News and World Report, Zarif dropped some Constitutional knowledge about the three branches of government:
"We don't want to get bogged down into the domestic procedures in the United States. I've studied and lived in the U.S.," Zarif said. "I know enough about the U.S. Constitution and U.S. procedures, but as a foreign government I only deal with U.S. government. I do not deal with U.S. Congress."
This rude insult was a slap to the porcelain face of Tom Cotton, the Jet to Zarif's Shark, the Capulet to his Montague, the Crip to his Blood. His office quickly responded to Zarif, saying that his "provocative statements …demonstrate why Iran cannot be trusted and why the president's decision to pursue this deal and grant dangerous concessions to Iran was ill-advised from the beginning."
But that's such a boring way to hit back, and Sen. Cotton, the master of Loud Noises, knows that nothing captures as much publicity as the clanging sound of a Twitter feud:
Hey @JZarif, I hear you called me out today. If you're so confident, let's debate the Constitution. 1/4

— Tom Cotton (@SenTomCotton) April 29, 2015
Here's offer: meet in DC, @JZarif, time of your choosing to debate Iran's record of tyranny, treachery, & terror. 2/4

— Tom Cotton (@SenTomCotton) April 29, 2015
I understand if you decline @JZarif after all, in your 20s, you hid in US during Iran-Iraq war while peasants & kids were marched to die 3/4

— Tom Cotton (@SenTomCotton) April 29, 2015
Not badge of courage @JZarif, to hide in US while your country fought war to survive-but shows cowardly character still on display today 4/4

— Tom Cotton (@SenTomCotton) April 29, 2015
We bet you didn't even read the statement issued through Cotton's Senate office. Those tweets alone are making you go AWWWW CRAPSNACKS right now.
It is unlikely that either party would actually agree to debate the Constitution in a public forum, but if there weren't nuclear weapons involved, we would absolutely bust out the popcorn and take bets in Las Vegas right now.
[Image via screenshot]
—
>> Follow Tina Nguyen (@Tina_Nguyen) on Twitter
Have a tip we should know? tips@mediaite.com