Tony Kornheiser Suspended From ESPN For "Inappropriate" Hannah Storm Comments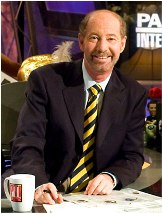 Tony Kornheiser, host of the popular ESPN talk show Pardon the Interruption, has been suspended by the network for two weeks because of comments he made about colleague, Hannah Storm.
Kornheiser's cracks made during his radio show about her boots and tight clothing was called "entirely inappropriate" in a statement released by ESPN tonight.
Last week Kornheiser described: "Hannah Storm in a horrifying, horrifying outfit today. She's got on red go-go boots and a catholic school plaid skirt…way too short for somebody in her 40s or maybe early 50s by now" (and more).
Today, John Skipper, ESPN Executive Vice President, Content said this in a statement released by ESPN:
Tony Kornheiser's comments about Hannah Storm were entirely inappropriate. Hurtful and personal comments such as these are not acceptable and have significant consequences. Tony has been suspended from PTI for two weeks. Hannah is a respected colleague who has been an integral part of the success of our morning SportsCenter.
The news of the suspension was first reported by The Big Lead.
Kornheiser addressed the suspension on his radio show today:
As a result of this, I have been sent to sidelines from PTI for a while and when I'm allowed back on PTI, I will happily go back because I love the PTI show and love all the people on the PTI show…It seems to me that, without any question, I broke the rules and this is the punishment that's come.
Deadspin raises a different issue – did Kornheiser's cracks at colleague Chris Berman's weight (albeit not by name) contribute to the suspension in any way? The statement did not mention it, and ESPN wasn't commenting beyond Skipper's statement.
Kornheiser is one of the biggest stars on ESPN, and formerly served in the anchor booth on Monday Night Football. It does seem, as is the case with many TV personalities, TV Tony Kornheiser and Radio Tony Kornheiser have slightly different styles. And in this case, TV Tony Kornheiser is taking the fall for what his radio counterpart said
—–
» Follow Steve Krakauer on Twitter
Have a tip we should know? tips@mediaite.com