Top 5 Takeaways From John Kelly's Very Honest Exit Interview: Sessions is Responsible For Family Separation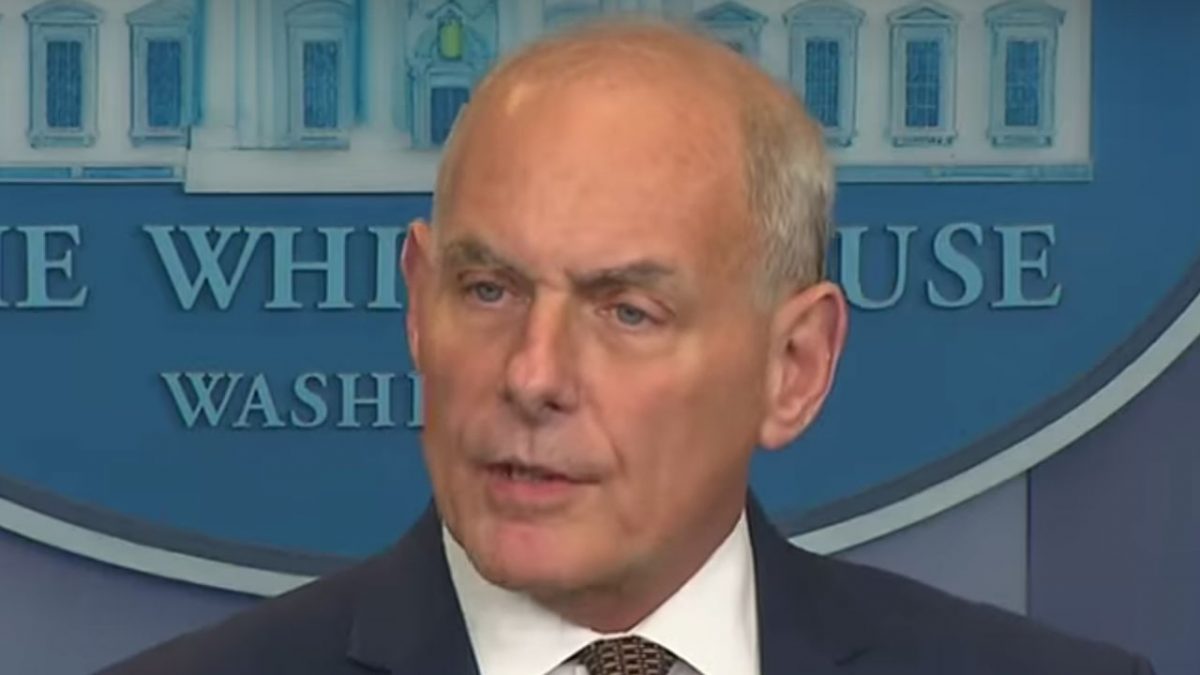 As he prepares to leave his position as White House chief of staff, John Kelly gave an exit interview saying — amongst other things — that President Trump's wall on the U.S.-Mexico border is not really a wall, and that Jeff Sessions is to blame for the separation of migrant families.
The Los Angeles Times spoke to Kelly for a profile piece on his time in the Trump Administration, during which, he offered some interesting tidbits about the president's rhetoric and interactions with other members of his team. There's a lot of things to consider here, but these 5 moments were the most important.
1. Trump's Wall is "Not a Wall"
Since the government is still in a shutdown because of Trump's fight with Democrats over border security funding, Kellyhas raised some eyebrows by saying the president's "wall" won't be an actual concrete structure barricading the U.S. from Mexico.
"To be honest, it's not a wall," Kelly said.

When Kelly led Homeland Security in early 2017, one of his first steps was to seek advice from those who "actually secure the border," Customs and Border Protection agents who Kelly calls "salt-of-the-earth, Joe-Six-Pack folks."

"They said, 'Well we need a physical barrier in certain places, we need technology across the board, and we need more people,'" he said. "The president still says 'wall' — oftentimes frankly he'll say 'barrier' or 'fencing,' now he's tended toward steel slats. But we left a solid concrete wall early on in the administration, when we asked people what they needed and where they needed it."
These remarks come days after Trump tweaked his messaging by saying the wall could be called a fence and might be comprised of steel slats and other security measures instead of the wall he promised on the campaign trail.
2. Did Kelly Stop Trump From Making Mistakes?
The LA Times characterized their interview with Kelly by saying that he said his White House tenure was measured by what the president did not do when he was at Trump's side. The profile cited Kelly's supporters who said he provided Trump with access to information ahead of big decisions, persuaded Trump not to withdraw from NATO, and talked the president out of withdrawing U.S. forces from Afghanistan.
"When I first took over, he was inclined to want to withdraw from Afghanistan," Kelly recounted during an exclusive two-hour interview with the Los Angeles Times.

"He was frustrated. It was a huge decision to make … and frankly there was no system at all for a lot of reasons — palace intrigue and the rest of it — when I got there."
3. Kelly: Trump Never Asked Me to Break the Law "Because We Wouldn't Have"
According to Kelly, Trump talks to his advisors about how far his presidential authority can take him, sometimes asking "Why can't we do it this way?" Even so, Kelly insisted he was never told to do anything that was against the law.
Trump never ordered him to do anything illegal, Kelly stressed, "because we wouldn't have."

"If he had said to me, 'Do it, or you're fired,'" Kelly said he would have resigned.
Kelly also said he had fights with other members of the Trump White House as he tried to enact a sense of order for the administration
"I told the president the last thing in my view that you need in the chief of staff is someone that looks at every issue through a political lens."
4. Kelly Blames Jeff Sessions for Migrant Child Separation Policy
Kelly said former attorney general Jeff Sessions surprised the White House by implementing the controversial zero-tolerance policy that separated migrant children from their parents at the border. He also praised Department of Homeland Security hed Kirstjen Nielsen for withstanding the criticism over the practice, even though she insisted there was never any such policy.
"What happened was Jeff Sessions, he was the one that instituted the zero-tolerance process on the border that resulted in both people being detained and the family separation," Kelly said. "He surprised us."
Despite rescinding the policy with an executive action, Trump recently embraced child separation by saying "far more" migrants will come to the U.S. if it doesn't happen.
5. "Illegal Immigrants…Are Not Bad People"
Kelly sidestepped questions when asked about how Trump recently said Democrats were to blame for the two Guatemalan children who died in the custody of border patrol this month. However, he called for actions to be taken so that migrants don't keep coming to America, offering some sympathy to their desperate situations.
"Illegal immigrants, overwhelmingly, are not bad people," Kelly said, describing many migrants as victims misled by traffickers. "I have nothing but compassion for them, the young kids."

But he blamed immigrants and lawmakers, not the White House, for the tense situation at the border, where thousands of Central Americans are stranded in Mexico — and two Guatemalan children have died in Border Patrol custody in Texas and New Mexico this month.

"One of the reasons why it's so difficult to keep people from coming — obviously it'd be preferable for them to stay in their own homeland but it's difficult to do sometimes, where they live — is a crazy, oftentimes conflicting series of loopholes in the law in the United States that makes it extremely hard to turn people around and send them home," Kelly said.
— —
>> Follow Ken Meyer (@KenMeyer91) on Twitter
Have a tip we should know? tips@mediaite.com