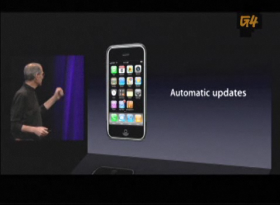 Craigslist! Facebook! Napster! Napster? (Yes, Napster!) These are just a few of the Top Ten Intenet Moments of the Decade, according to the folks at the Webbys, who last week released their "Ten Most Influential Internet Moments of the Decade." Well, I've seen Spinal Tap, so I decided to take this one to eleven. Its the Internet, there are no rules. Even though I think they cheat slightly on #7 (really? Combining Facebook and Twitter into one category?), the Webby folks did an outstanding job with this list, save for added moment at the end. Here they are, in chronological order, to make you feel especially old:
1. Craigslist expands outside San Francisco (2000)
2. Google AdWords launches (2000)
3. Wikipedia launches (2001)
4. Napster Shut Down (2001)
5. Google IPO (2004)
6. Online video revolution (2006)
7. Facebook opens to non-college students and Twitter takes off (2006)
8. The iPhone debuts (2007)
9. U.S. Presidential Campaign (2008)
10. Iranian election protests (2009)
Can you believe we didn't have "Missed Connections" until 2000? How did people meet? Haaaa. No, really. Anyhow, great list — the full rationale for each choice is here (including all sorts of YouTube examples for the "online video" choice — credit where credit is due!) — but here's what I think was left off:
11. PayPal.
PayPal positively revolutionized online commerce, especially for small vendors and peer-to-peer transactions. Also, if you consider what PayPal spawned in terms of the braintrust it loosed on Silicon Valley, it becomes doubly significant. So I would have added PayPal, but perhaps I'm biased because during my more broke periods in life I subsisted wholly on eBay sales.
Anyway! Below is a segment featuring David-Michel-Davies of the Webbys explaining the Webby kids' choices on "Attack of the Show." Host Kevin Pereira also notes the importance of online video, rather charmingly noting "From crotch shots to citizen journalism, it's all been realized in hi-def." Well, AOTS would know! If you violently disagree with any of these choices, please make your displeasure known in the comments.
Have a tip we should know? tips@mediaite.com