Trevor Noah: The 'Lights Will Turn On' For Americans When Trump Finally Loses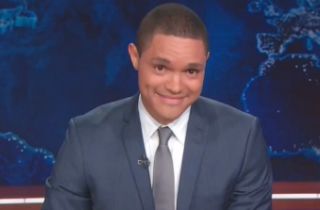 Trevor Noah sat down for a discussion at Vulture Festival on Sunday, where much of the conversation gravitated around his trial by fire in covering the media and American politics on The Daily Show.
Noah touched on a broad range of subjects with New York Magazine's Rembert Browne, ranging from his outsider perspective as a South African immigrant, to how he picked up the mantle of Jon Stewart. Of course, a great deal of the conversation revolved around Donald Trump, and what his impact has meant for Noah's efforts to satirize American media and politics.
"He has mastered the art of moving us on to the next news cycle," Noah said. He explained that since the 24/7 news cycle leads to rapid shifts at any given point in the political dialogue, it frequently leads to an information overload for viewers.
Noah noted that by saying so many controversial things and still keeping the dialogue moving, Trump has fixed the media's attention on himself while avoiding the worst blowback for any one of his statements.
Noah went on to liken the 2016 political race to the WWE, and said that the incendiary rhetoric has givens Americans a chance to ditch their inhibitions and express racist tendencies the way they couldn't before.
In the end though, Noah expects that Trump will lose, and that it will have a peculiar effect on the national psyche:
"I feel like when Donald Trump loses, there will be a moment in the country where it's just like, the lights have just come on in the club. … 'Ooooh, you looked so much better when the lights were off.' I think it's a good thing. I think it's good because it's sparking conversation."
[h/t Vulture]
[Image via screengrab]
— —
>> Follow Ken Meyer (@KenMeyer91) on Twitter
Have a tip we should know? tips@mediaite.com