Anthony Weiner Takes a Page From Pal Jon Stewart, Slams Trump as 'F*ckface Von Clownstick'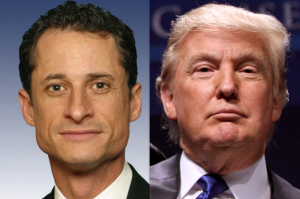 Many people may not have been able to predict that at this point of the 2016 election cycle, Anthony Weiner would again be in the headlines. But on the heels of a new scathing documentary appropriately titled Weiner about the New York politician's fall from grace — and with many in the blogosphere wondering if it's time for us all to "forgive" the man — the focus is back on the scandal that derailed the once-populist hero.
Adding to the increased interest in recent weeks is Weiner's wife, longtime Hillary Clinton confidant Huma Abedin, whose role in the Clinton campaign is likely to see unprecedented scrutiny headed into the general election months.
Suddenly, it seems as if Weiner is back… and now, taking shots at the GOP presumptive nominee Donald Trump. The former New York Congressman borrowed a phrase from his longtime pal Jon Stewart on Twitter Sunday, blasting the real estate mogul as 'F*ckface Von Clownstick' — the name once ceremoniously bestowed on Trump in the Stewart era of the venerable late night program The Daily Show.
If we are gonna test fanciful hypotheticals, how does HRC do against F*ckface Von Clownstick? https://t.co/nQ43tsesww

— Anthony Weiner (@anthonyweiner) May 22, 2016
Weiner wrote, "If we are gonna test fanciful hypotheticals, how does HRC do against F*ckface Von Clownstick?" in response to a Tweet from Chris Jansing who noted that a new NBC poll puts Bernie Sanders — not Hillary Clinton — safely ahead of Donald Trump in a general election head-to-head showdown.
Anthony Weiner and Jon Stewart are longtime friends (and were once roommates), a fact that the comedian would often admit to while covering the New York pol prior to his sexting scandal. However, once the sordid details of Weiner's text messages became known, Stewart quickly became one of the fiercest Jesters In Chief of the Weinergate scandal. One of the defining facepalm moments of the ordeal was when a private leaked message indicated that Weiner discussed having sex during The Daily Show with a Las Vegas blackjack dealer, Lisa Weiss, in 2011. Weiner wrote to Weiss, "to get us in the mood. first we watch back to back episodes of the daily show and colbert report…"
For nostalgia's sake, check out this above clip from Comedy Central's The Daily Show to relive the height of the Stewart skewerfest at the expense of the embattled Weiner.
—
J.D. Durkin (@jiveDurkey) is an editorial producer and columnist at Mediaite.
[images via Wikipedia Commons]
Have a tip we should know? tips@mediaite.com