Trump Advisor A.J. Delgado Hints at Comms Director Jason Miller Sex Scandal, Deletes Twitter Account (UPDATED)
Donald Trump transition team advisor (and former Mediaite columnist) A.J. Delgado deleted her account Saturday after a series of cryptic tweets about recently departed communications director Jason Miller.

"When you try to put on a brave face and tweet about nonsense to distract, your feed looks like [Jason Miller]'s," she tweeted, before adding, "When people need to resign graciously and refuse to, it's a bit… spooky."
In saved tweets from before Miller publicly declined a White House position–citing the need to spend more time with his family– Delgado wrote, "Congratulations to the baby-daddy on being named WH Comms Director!" before saying that he "needed to resign… yesterday."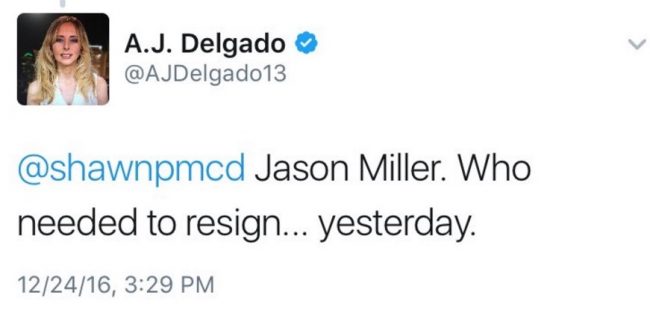 There had been little public indication of any friction between the two during the 2016 presidential election. On the contrary, before the Las Vegas presidential debate, the Miller and Delgado were even spotted hanging out together at a Vegas strip club.
UPDATE (11:19 PM ET): The New York Daily News managed to screengrab another tweet from Delgado calling Miller the "2016 version of John Edwards," the former Democratic presidential candidate and senator forced to retire from politics after being caught cheating on his cancer-stricken wife.
UPDATE (12/25, 3:08 PM ET): Politico has new reporting today on allegations of Miller having an affair:
The matter has caused turmoil within the Trump operation over the past week, as Delgado sent emails to senior officials disclosing details of her alleged relationship with Miller, the people close to the transition said. The nature of their relationship had been known to people involved in the Trump campaign and transition for "a number of months," one source said.
And in a bit of strange timing, this news comes just days after Kellyanne Conway responded to questions about her being able to juggle a work-life balance by saying she doesn't have a "mistress" like a lot of men do.
[Image via screengrab]
—
>>Follow Alex Griswold (@HashtagGriswold) on Twitter
Have a tip we should know? tips@mediaite.com