Trump Boasts That SOTU Most Watched in History (More People Watched Obama, Bush, Clinton)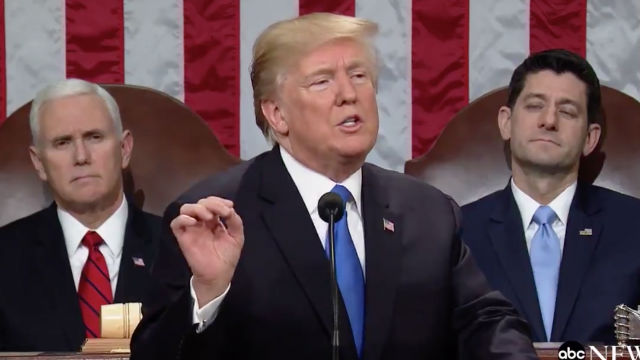 Oh look, he's tweeting again.
President Trump ended his Twitter fast on Thursday morning, and…it's exactly what you'd expect. The president is heading to the congressional GOP's retreat in West Virginia, so he's warming up by going on the attack against the Democratic opposition.
Heading to beautiful West Virginia to be with great members of the Republican Party. Will be planning Infrastructure and discussing Immigration and DACA, not easy when we have no support from the Democrats. NOT ONE DEM VOTED FOR OUR TAX CUT BILL! Need more Republicans in '18.

— Donald J. Trump (@realDonaldTrump) February 1, 2018
March 5th is rapidly approaching and the Democrats are doing nothing about DACA. They Resist, Blame, Complain and Obstruct – and do nothing. Start pushing Nancy Pelosi and the Dems to work out a DACA fix, NOW!

— Donald J. Trump (@realDonaldTrump) February 1, 2018
What was that about uniting the country again?
Eventually, Trump declared that his State of the Union speech brought in viewership ratings like no one has ever seen before.
Thank you for all of the nice compliments and reviews on the State of the Union speech. 45.6 million people watched, the highest number in history. @FoxNews beat every other Network, for the first time ever, with 11.7 million people tuning in. Delivered from the heart!

— Donald J. Trump (@realDonaldTrump) February 1, 2018
Gee, why does it feel like we've been here before? Weird, déjà vu.
Nielsen data indicates that not only was Trump's speech down by 2 million from his address before Congress last year, but it also was not the "highest number in history" for viewership. Barack Obama had 48 million viewers at his 2010 SOTU address, George W. Bush had 52 million in 2002 and 62 million in 2003. Finally, Bill Clinton, had almost 46 million in 1994.
Oh well, better luck next time.
[Image via screengrab]
— —
>> Follow Ken Meyer (@KenMeyer91) on Twitter
Have a tip we should know? tips@mediaite.com