Trump Considers Ben Carson To Head HUD Despite Carson Ally Saying He Lacked Experience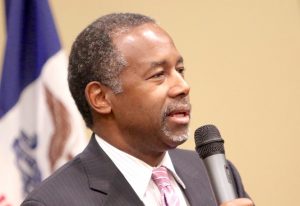 Each waking day brings another round of names of potential Cabinet members for the upcoming administration of Donald Trump. Over the past few days, Trump has held interviews at his New Jersey golf course for possible candidates, such as one-time critic Mitt Romney and Democrat Tulsi Gabbard.
One person who was thought to no longer be in the running for a position suddenly saw his name tossed out by none other than the man himself.
I am seriously considering Dr. Ben Carson as the head of HUD. I've gotten to know him well–he's a greatly talented person who loves people!

— Donald J. Trump (@realDonaldTrump) November 22, 2016
As many may recall, it was just a week ago when Ben Carson stated that he wasn't interested in leading a federal agency because he didn't think he had the qualifications. According to The Hill, Carson ally Armstrong Williams said the retired neurosurgeon was only interested in being an unofficial adviser due to the fact that he lacked the proper experience.
"Dr. Carson feels he has no government experience, he's never run a federal agency. The last thing he would want to do was take a position that could cripple the presidency."
Carson would later refute some of those claims on Facebook, stating that while he wasn't interested in a Cabinet position at the time, it wasn't due to the complexity of the job.
However, during a conversation with Fox News yesterday, Carson seemed to be open to officially working in the administration.
"Basically, I've said my preference is to be outside and to act as an adviser, but if after going through the process they all conclude it would be much better to have me in the Cabinet, I would have to give that very serious consideration," Carson said. "It's just not my preference."
After Trump's tweet, many took to Twitter to give their opinions of the potential selection.
Serious question: What is Ben Carson's qualification to be the head of HUD? https://t.co/6pdJ70ZHsy

— Sopan Deb (@SopanDeb) November 22, 2016
Nobody knows more about federal housing policy than … Ben Carson? https://t.co/Ig6w49NvNu

— Ben White (@morningmoneyben) November 22, 2016
$10 says Ben Carson is a HUD pick because he's black and the "U" in "HUD" stands for "Urban."

— Jamelle Bouie (@jbouie) November 22, 2016
Ben Carson has said he's not qualified to run a government agency. https://t.co/tpucwzhzQa

— Kyle Griffin (@kylegriffin1) November 22, 2016
[image via screengrab]
–
Follow Justin Baragona on Twitter: @justinbaragona
Have a tip we should know? tips@mediaite.com