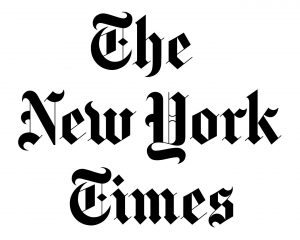 President-elect Donald Trump met with the New York Times today — after initially pulling out of the meeting — for an on-the-record discussion with reporters.
With a number of NYT reporters sitting in on the meeting, they took to their phones to live-tweet what was being discussed.
Here is a list of those who attended the meeting.
The attendees at today's meeting between the President-elect and The New York Times. pic.twitter.com/8kPqRp3AVE

— Mike Grynbaum (@grynbaum) November 22, 2016
Below are some of the more noteworthy ones. (We will continue to update as they come in.)
Trump is at NYT, says he has been treated unfairly during campaign. Says he'd like to improve relationship,that it would make his job easier

— Maggie Haberman (@maggieNYT) November 22, 2016
"I have great respect for the New York Times. I have tremendous respect," says Trump. "I think I've been treated very rough."

— Mike Grynbaum (@grynbaum) November 22, 2016
Trump on the experience of the campaign: "It's been 18 months of brutality in a true sense."

— Maggie Haberman (@maggieNYT) November 22, 2016
"I'd rather do the popular vote," Trump says. "I think we'd do as well or better." Says he was "never a fan of the electoral college."

— Maggie Haberman (@maggieNYT) November 22, 2016
"The African-American community liked me. They liked what I was saying," Trump says.

— Maggie Haberman (@maggieNYT) November 22, 2016
Trump is pressed if he has definitively ruled out prosecuting Hillary Clinton. "It's just not something that I feel very strongly about."

— Mike Grynbaum (@grynbaum) November 22, 2016
Trump on alt-right supporters: "It's not a group I want to energize. And if they are energized I want to look into it and find out why."

— Maggie Haberman (@maggieNYT) November 22, 2016
Trump says "no" when asked if he is taking investigations off the table for Clintons but adds he doesn't want to "hurt the Clintons."

— Maggie Haberman (@maggieNYT) November 22, 2016
Tom Friedman asks if Trump will withdraw from climate change accords. Trump: "I'm looking at it very closely. I have an open mind to it."

— Mike Grynbaum (@grynbaum) November 22, 2016
On climate change, Trump says he is also thinking about "how much it will cost our companies" & the effect on American competitiveness.

— Mike Grynbaum (@grynbaum) November 22, 2016
Trump on disappointing his supporters re Clinton: "I don't think they will be disappointed…" 1/2

— Maggie Haberman (@maggieNYT) November 22, 2016
Trump on his businesses/conflict q's: "The law's totally on my side, the president can't have a conflict of interest."

— Maggie Haberman (@maggieNYT) November 22, 2016
"I might have brought it up," Trump says of Farage meeting and wind farms.

— Maggie Haberman (@maggieNYT) November 22, 2016
Conflicts of interest? Trump says: "If it were up to some people, I would never, ever see my daughter Ivanka again."

— Mike Grynbaum (@grynbaum) November 22, 2016
Trump says "in theory" he could continue signing checks at his company, but he is "phasing that out now" and giving to his kids.

— Maggie Haberman (@maggieNYT) November 22, 2016
"In theory I could run my business perfectly and then run the country perfectly. There's never been a case like this,"he says of his tangles

— Maggie Haberman (@maggieNYT) November 22, 2016
What about selling your company? "That's a really hard thing to do, because I have real estate."

— Mike Grynbaum (@grynbaum) November 22, 2016
"I'd assumed that you'd have to set up some type of trust or whatever and you don't," Trump says.But he adds "I would like to do something."

— Maggie Haberman (@maggieNYT) November 22, 2016
Trump: "I've known Steve Bannon a long time. If i thought he was a racist, or alt-right…I wouldn't even think about hiring him."

— Mike Grynbaum (@grynbaum) November 22, 2016
Trump on Bannon: "I think it's very hard on him. I think he's having a hard time with it. Because it's not him."

— Maggie Haberman (@maggieNYT) November 22, 2016
Trump: "Breitbart is just a publication."

— Maggie Haberman (@maggieNYT) November 22, 2016
"A lot of people are coming to his defense right now," Trump says of Bannon. Reince voices support too at conference table.

— Maggie Haberman (@maggieNYT) November 22, 2016
Trump: "If you see something or you get something where you feel that I'm wrong, I'd love to hear it. You can call me. Arthur can call me."

— Mike Grynbaum (@grynbaum) November 22, 2016
"Paul Ryan, right now, loves me. Mitch McConnell loves me," Trump says. Then says, "I've liked Chuck Schumer for a long time."

— Maggie Haberman (@maggieNYT) November 22, 2016
Trump then says, "I think I was the first person that ever contributed to Chuck Schumer." Says Chuck may not admit that.

— Maggie Haberman (@maggieNYT) November 22, 2016
"These people are really angry," Trump says of people who supported him in formerly-Dem states. They're "the forgotten man and woman."

— Maggie Haberman (@maggieNYT) November 22, 2016
Trump says Tim Cook from Apple called him, so did Bill Gates.

— Maggie Haberman (@maggieNYT) November 22, 2016
Trump gets asked again about the alt-right conference. 'Boy you are really into" this issue, Trump replies. Then disavows again.

— Maggie Haberman (@maggieNYT) November 22, 2016
Trump says he won the presidency "easily," adds, "I helped numerous senators" and then says Ayotte "would love a job in the administration."

— Maggie Haberman (@maggieNYT) November 22, 2016
Of Ayotte, Trump says, "No, thank you."

— Maggie Haberman (@maggieNYT) November 22, 2016
"He said very nice things after the meeting and I saidvery nice things about him," Trump says of Obama.Says he didn't know if he'd like him.

— Maggie Haberman (@maggieNYT) November 22, 2016
"I think he's looking to do absolutely the right thing for the country in terms of transition," Trump says of Obama.

— Maggie Haberman (@maggieNYT) November 22, 2016
'He did tell me what he thought were the biggest problems, in particular one problem," Trump says. Won't say what that was.

— Maggie Haberman (@maggieNYT) November 22, 2016
"I don't think we should be a nation-builder," Trump says of the US role in the world.

— Maggie Haberman (@maggieNYT) November 22, 2016
Trump does a verbal eye-roll about @GrahamBlog talking about Syria.

— Maggie Haberman (@maggieNYT) November 22, 2016
Trump on Syria: "We have to end that craziness that's going on in Syria."

— Maggie Haberman (@maggieNYT) November 22, 2016
Trump gets asked about his commitment to first amendment, says, "I think you'll be happy."

— Maggie Haberman (@maggieNYT) November 22, 2016
[image via New York Times]
–
Follow Justin Baragona on Twitter: @justinbaragona
Have a tip we should know? tips@mediaite.com