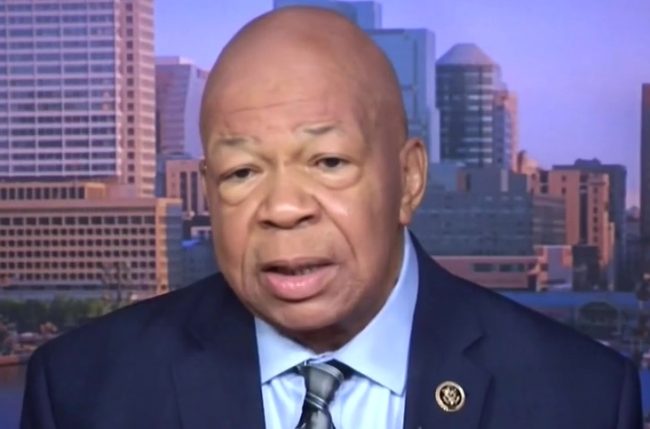 Once again, President Donald Trump appeared to react in real-time to something that occurred on cable news, this time responding to a Democratic representative's request to speak with him made on MSNBC.
Maryland Congressman Elijah Cummings made a direct appeal to Trump on Morning Joe Wednesday morning. "President, I know you're watching, so I'm looking forward to meeting with you…" he said. "Call me. I want to talk to you."
Trump evidently was watching. American Urban Radio Network White House correspondent April Ryan reports that the president then "picked up the phone and called Congressman Cummings. He called his Washington office, and the two spoke on the issue of prescription drugs."
The call lasted four minutes, and was quite cordial. Per Ryan, Trump ended the call by giving his condolences for the six members of a Cummings staffer's family who were killed in a Baltimore house fire.
The incident appears to fit into a larger trend in which the president bases his actions on something he has seen on cable news. Last month, Trump suddenly resurrected the issue of flag burning shortly after a Fox & Friends segment featuring a flag-burning. Just yesterday, Trump penned a tweet about violence in Chicago using the exact language and statistics featured in an O'Reilly Factor segment.
[Image via screengrab]
—
>>Follow Alex Griswold (@HashtagGriswold) on Twitter
Have a tip we should know? [email protected]