Trump Reportedly Called Ex-Wife's Family 'Dumb Southerners', Despite Claiming He Never Used Term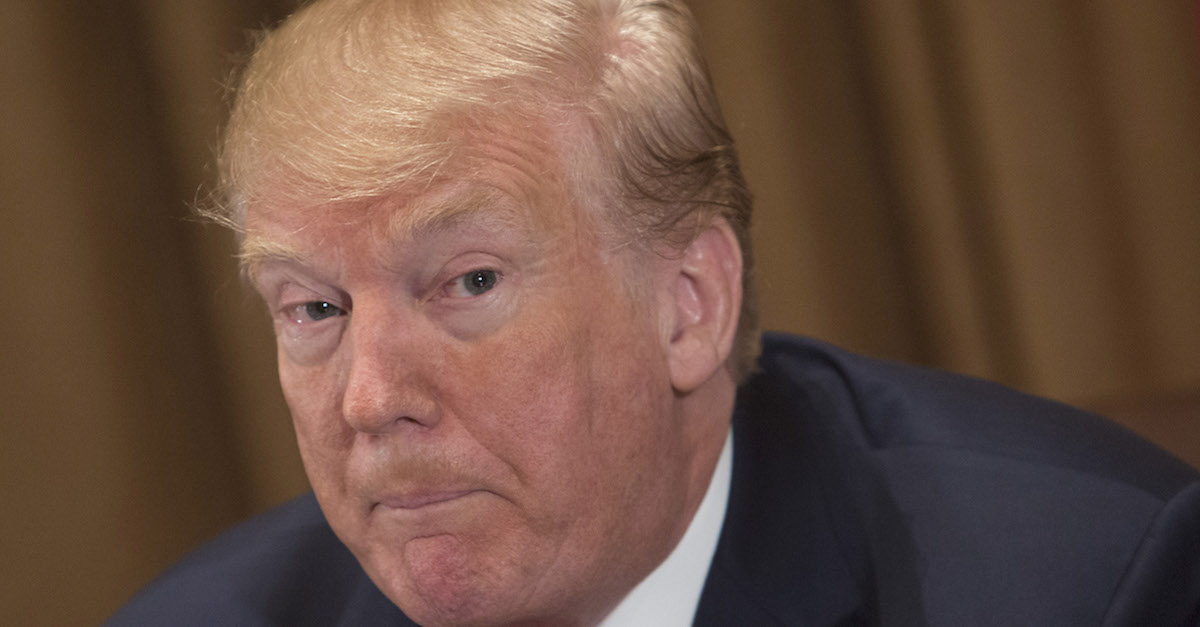 Bob Woodward's explosive upcoming book on the White House includes a stunning anecdote about President Donald Trump referring to Attorney General Jeff Sessions as a "dumb southerner" and "mentally retarded."
Trump vehemently denied Woodward's reporting, claiming he has "never used those terms on anyone."
Mediaite previously noted that Trump has called people "mentally retarded" on tape. Now, a new report claims Trump used the term "dumb southerner" as well.
The New York Times reports that Trump used "dumb southerner" in 1997, back when he spoke frequently to Jeane MacIntosh, then deputy editor of Page Six. MacIntosh contacted Trump for a story she was working on about some purchases by his ex-wife Marla Maples, and Trump ended up dishing to MacIntosh about his upcoming divorce.
From the Times:
He said, 'I have something better for you,' " Ms. MacIntosh recalled in an interview on Wednesday. If she dropped that story, he said, he would give her bigger news — that he planned to divorce Ms. Maples. When Ms. MacIntosh pressed him on why, he "essentially blamed her family," she said, referring to Ms. Maples's Georgia-based relatives.

"Are you old enough to remember the show 'The Beverly Hillbillies?' " he asked Ms. MacIntosh.

She replied yes, and Mr. Trump laughed and said, "That's exactly her family, except they came to New York City instead of Beverly Hills." Ms. MacIntosh added, "I said, 'What do you mean?' And he said she was constantly surrounded 'by an entourage of dumb Southerners.'" He even adopted a fake southern accent to mimic Ms. Maples's mother, Ms. MacIntosh said.
Beyond the "dumb southerners" quip, Trump is also on record calling people "retarded." Trump used the word twice on Howard Stern's radio show, plus reports claimed he said the same thing about deaf actress Marlee Matlin while filming The Apprentice.
[Photo via Getty Images]
— —
>> Follow Ken Meyer (@KenMeyer91) on Twitter
Have a tip we should know? tips@mediaite.com