Trump Rips Into 'Ungrateful TRAITOR' Chelsea Manning 14 Minutes After Fox News Segment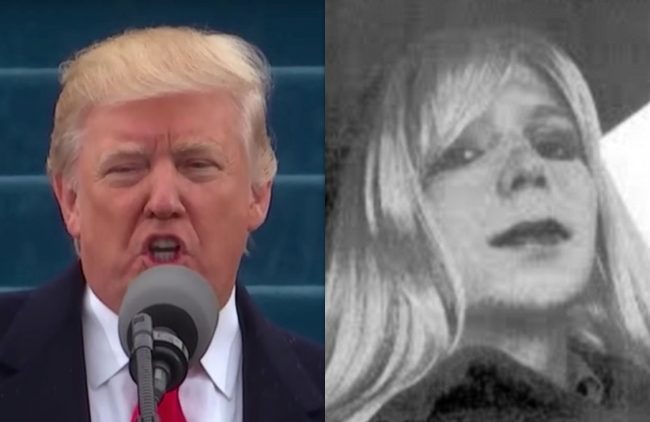 By now, it is a sure-fire bet that when President Donald J. Trump awakens in the early morning hours and sends out another seemingly unprovoked Tweet, it likely comes in response to a segment he just finished watching on cable news.
And sure enough, the subject of his newest tirade — Chelsea Manning — was heavily featured on Fox News just fourteen minutes before the Commander in Chief slammed the disgraced Army private. On Fox & Friends First Thursday, anchor Abby Huntsman led off a segment at 5:50 a.m. EST saying:
"Chelsea Manning sounding less than grateful to President Obama for cutting nearly twenty-five years off of her sentence for leaking unclassified information. In a new article for The Guardian, the disgraced former Army private is slamming President Obama as a weak leader with few permanent accomplishments."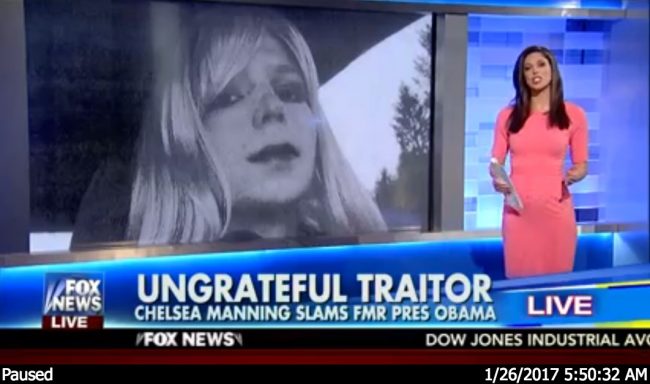 Sure enough, at 6:04 a.m. EST, our nation's 45th President fired off his own response to Manning's Guardian op-ed — from his Android device, of course — using much of the same exact language that Huntsman had read from her Fox News teleprompter just moments before. Even the phrase "ungrateful traitor" comes DIRECTLY from the Fox News chyron emblazoned on the screen.
Ungrateful TRAITOR Chelsea Manning, who should never have been released from prison, is now calling President Obama a weak leader. Terrible!

— Donald J. Trump (@realDonaldTrump) January 26, 2017
In her first published piece since having her sentence commuted by President Barack Obama, Manning took the former administration to task, indicating that Obama's chief mistake at the negotiating table was frequently beginning from a place of compromise rather than hard-lined stances. But upon closer review, the piece — titled Compromise doesn't work with our political opponents. When will we learn? — is oftentimes more a criticism of Republican leadership being unwilling to meet Obama halfway.
"Throughout his two terms in office, these types of contradictions would persist," Manning, who is due to be released within months, wrote in The Guardian. "Optimism and hope would be met with backlash and hate. He faced unparalleled resistance from his opponents, many of whom wanted him to fail."
She called for a firm progressive approach that would not bend to under the weight of negotiation, writing, "We need someone who is unafraid to be criticized, since you will inevitably be criticized. We need someone willing to face all of the vitriol, hatred and dogged determination of those opposed to us."
—
J.D. Durkin (@jivedurkey) is an editorial producer and columnist at Mediaite.
Have a tip we should know? tips@mediaite.com