Trump's Attacks on Ex-White House Official 'Wacky Omarosa' Blows Up Twitter: 'We Asked For This'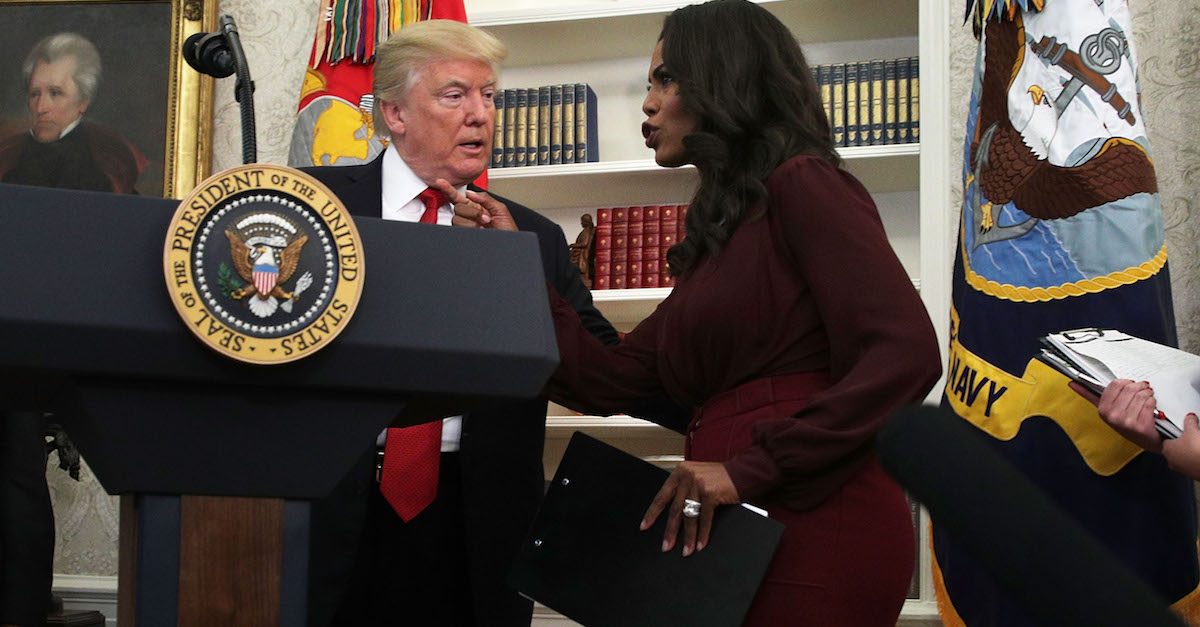 It was inevitable: as Omarosa Manigault made the rounds on television trashing her former White House boss Donald Trump, the president took to Twitter to fire back in equally personal and bitter terms.
The series of tweets aimed at Manigault was brutal — if predictably Trumpian — replete with insults, embarrassing anecdotes, and a nice revelation of his own incompetence.
Wacky Omarosa, who got fired 3 times on the Apprentice, now got fired for the last time. She never made it, never will. She begged me for a job, tears in her eyes, I said Ok. People in the White House hated her. She was vicious, but not smart. I would rarely see her but heard….

— Donald J. Trump (@realDonaldTrump) August 13, 2018
…really bad things. Nasty to people & would constantly miss meetings & work. When Gen. Kelly came on board he told me she was a loser & nothing but problems. I told him to try working it out, if possible, because she only said GREAT things about me – until she got fired!

— Donald J. Trump (@realDonaldTrump) August 13, 2018
While I know it's "not presidential" to take on a lowlife like Omarosa, and while I would rather not be doing so, this is a modern day form of communication and I know the Fake News Media will be working overtime to make even Wacky Omarosa look legitimate as possible. Sorry!

— Donald J. Trump (@realDonaldTrump) August 13, 2018
The president's claim that his own Chief of Staff John Kelly told him Manigault was "nothing but problems", but that he kept her on staff anyway because she praised him was enough to set off facepalms all over Twitter.
What really strikes me about this tweet is the conflation of being fired on The Apprentice with being fired from the White House. https://t.co/44qr4fVCMg

— Nick Confessore (@nickconfessore) August 13, 2018
We asked for this. Exactly this. https://t.co/qnkVVgaaTX

— Allahpundit (@allahpundit) August 13, 2018
Every day is like a gift. A horrible, awful gift. https://t.co/aKlNAbz7k9

— Drew Magary (@drewmagary) August 13, 2018
She was paid $179,700 to serve as an assistant to the president for one year and was then offered $15,000 a month after being fired. https://t.co/G1LbI1GavA https://t.co/7XRa5XNxyp

— Josh Dawsey (@jdawsey1) August 13, 2018
Firing someone four seperate times says less about the individual and more about the hiring process https://t.co/CmGhJgHeSW

— Astead (@AsteadWesley) August 13, 2018
World's Best Business Man Fires Same Person Four Times https://t.co/Xhjm4vRCnF

— Brian Santa Maria (@briansantamaria) August 13, 2018
The president says he instructed his chief of staff to retain an under-performing employee because she said flattering things about him. https://t.co/5N8KJY8kuG

— erica orden (@eorden) August 13, 2018
This is such a great tweet https://t.co/FCnYC6lTgg

— Sam Stein (@samstein) August 13, 2018
imagine admitting u were keeping someone in one of the most important government jobs solely because they said GREAT things about u ?
just imaginehttps://t.co/N8NThR7d4N

— darth™ (@darth) August 13, 2018
A walking, talking limbic system that divides the world into people who say great things about him, and liarshttps://t.co/6OlAqbc3io

— David Burge (@iowahawkblog) August 13, 2018
How many other Generals are giving him similar warnings about bad actors near and far? How many are ignored because "he/she said GREAT things about me?" https://t.co/YCFMq6U2lt

— Bill Weir (@BillWeirCNN) August 13, 2018
TL;DR — Omarosa seemed to like me so I told Kelly to let her stay. https://t.co/NhKhC4rOBc

— David Martosko (@dmartosko) August 13, 2018
Now list other people who tried to make "even Wacky Omarosa" look legitimate.

I'll start: You. https://t.co/CIEjIBhhsM

— Caleb Howe (@CalebHowe) August 13, 2018
The President is angry with journalists for covering allegations made by a former Assistant to the President — a rank equal to the National Security Adviser and Chief of Staff — whom Trump hired and kept in his Administration for a year. https://t.co/2M5EQIcUbQ

— Phil Elliott (@Philip_Elliott) August 13, 2018
He apologized! https://t.co/WY2mvyEckU

— James Taranto (@jamestaranto) August 13, 2018
(Photo by Alex Wong/Getty Images)
Have a tip we should know? tips@mediaite.com