Trump's Doctor Seems Unconcerned About Him Dying in Office: 'They Can Just Keep Dying'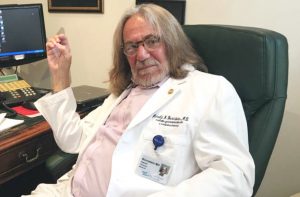 STAT News, a health news website, has given the world an early Christmas present in the form of an remarkable interview with Donald Trump's fascinating doctor: Harold Bornstein.
Bornstein has drawn intrigue throughout the election. From his strange medical review on the mogul's health, or then, of course, his wife threatening to call the cops in the middle of an interview, he's kept up entertained. Bornstein gave an interview that was published today by STAT, and…well…there's a lot to look at.
First things first, Bernstein said he wasn't aware that Trump is the oldest person ever elected president, but he seemed to suggest that if Trump were to die in office, it wouldn't be a really big deal:
"If something happens to him, then it happens to him. It's like all the rest of us, no? That's why we have a vice president and a speaker of the House and a whole line of people. They can just keep dying."
Bornstein also said that aside from Trump being slightly overweight, he's never found anything wrong with the president-elect and had "nothing to share" about his condition. Strangely, Bornstein contextualized this by claiming that no one knew Ronald Reagan had "pre-senile dementia" from his Alzheimers until he was already out of office.
"I mean, seriously, did they share that one with you, or did Nancy [Reagan] just cover it up?" Bornstein asked. In terms of his thoughts on Hillary Clinton…here you go:
Bornstein said that Trump isn't "an old man the way my grandfather was an old man;" meanwhile, of Clinton, he said: "She's an old lady. She's an old lady. It's funny, isn't it?"

He said that he ran into Dr. Lisa Bardack, Clinton's physician, during the course of the campaign, and that he gave her a Trump pin.
Bornstein used the rest of the interview to talk about everything from his dislike of Obamacare, to the anti-Trump heckling he received throughout the election. He said he hasn't spoken to Trump since Election Day, and he doesn't know whether he'll be asked to keep treating Trump or if he'll be looked after by a military doctor as per usual.
[Image via screengrab]
— —
>> Follow Ken Meyer (@KenMeyer91) on Twitter
Have a tip we should know? tips@mediaite.com