Trump's Lawyers Demand Retraction From NYT Over 'Reckless, Defamatory, Libelous Article'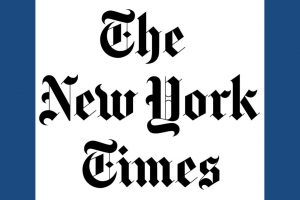 A Manhattan law firm that is representing Donald Trump sent a letter to the New York Times last Wednesday night in direct response to the reports that two women have come forward claiming sexual harassment against the GOP nominee.
The law firm of Kasowitz, Benson, Torres & Friedman slammed the libelous article, demanding a full retraction of the content within it.
The original piece — Two Women Say Donald Trump Touched Them Inappropriately, by Megan Twohey and Michael Barbaro — reveals that Jessica Leeds and Rachel Crooks have each come forward claiming that the real estate mogul moved on them in the past. Leeds's claims stem from an incident on board an airplane more than thirty years ago in a first-class cabin. From the New York Times:
About 45 minutes after takeoff, she recalled, Mr. Trump lifted the armrest and began to touch her.

According to Ms. Leeds, Mr. Trump grabbed her breasts and tried to put his hand up her skirt.

"He was like an octopus," she said. "His hands were everywhere."
Crooks was a 22-year-old receptionist in Trump Tower in 2005 when Trump "began kissing her cheeks" before kissing her "directly on the mouth." Crooks recounted to the Times, "I was so upset that he thought I was so insignificant that he could do that."
Trump's lawyers are crying foul, pointing to the suspicious timing of the release of information just weeks before the general election.
The letter was addressed to the Executive Editor of the Times Dean Baquet, stating, "Your article is reckless, defamatory and constitutes libel per se."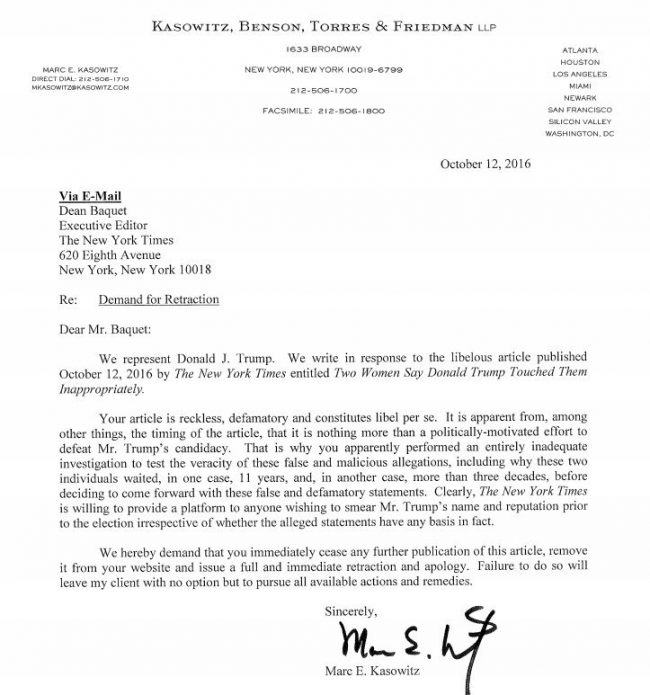 Kasowtiz's letter continues:
It is apparent from, among other things, the timing of the article, that it is nothing more than a politically-motivated effort to defeat Mr. Trump's candidacy. That is why you apparently performed an entirely inadequate investigation to test the veracity of these false and malicious allegations.
Even if the Donald Trump were to move forward with any sort of lawsuit against the New York Times, it is an issue that would likely drag on for several years. Judge Napolitano said on Fox & Friends this morning, "If Trump could prove that the Times acted with… actual malice, which means that the New York Times knew this was wrong and published it anyway or was reckless in its disregard for whether it was truthful or inaccurate and published it anyway, then he can prevail." However, as Judge Nap noted, the language of the First Amendment is intentionally convoluted, and no court would ever force a retraction or correction to the original story.
Have a tip we should know? [email protected]