Tucker Carlson Joked in 2008 How He Pays Bills: I'm 'Extraordinarily Loaded' From 'Number of Trust Funds'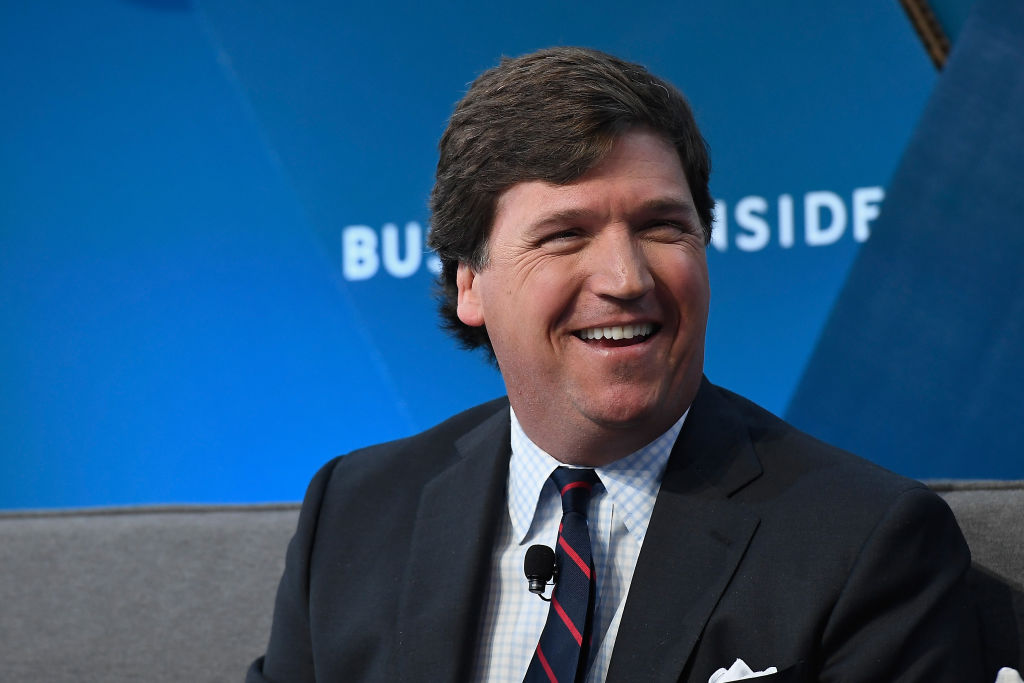 In the latest resurfacing of Fox News host Tucker Carlson's old comments on a shock jock radio show, the then-MSNBC pundit joked about being an "extraordinarily loaded" trust fund baby.
Carlson's over-the-top trust fund boasting was unearthed by The Intercept's Aida Chávez from an old segment on The Bubba the Love Sponge Show, which was a typical provocative morning radio show broadcasted in the Tampa, Florida area.
"I'm not getting a new job, I'm not going to be hanging around, [I'm] same old, you know, pathetic, unemployed, unshaven in his boxer shorts at noon kinda guy," Carlson said in 2008. "Who would employ me? I live a perfect life right now. I get up late, I go down, buy a cup of coffee, read the newspaper, stuff like that."
He continued:
"I'm like extraordinarily loaded, just like from money I inherited from my number of trust funds… I go out and beat some servants, I'll wrap my Lamborghini around a tree, go pick up a kilo [of cocaine] or two — just like normal stuff like that… I'm completely a [trust fund baby]. I never needed to work, the whole cable news thing was just a total pose, it was just like a phase I was going through."
Critics of Carlson's other comments on Bubba the Love Sponge's show have been not unfairly described as bigoted and sexist. Those past remarks include a suggestion that women should "be quiet and kind of do what you're told," an ardent defense of a then-FBI most wanted child rapist, and a description of Iraqis as "semiliterate primitive monkeys" and another on "lunatic Muslims who are behaving like animals."
He defended his past comments in a statement released on Twitter.
"Media Matters caught me saying something naughty on a radio show more than a decade ago," Carlson said on Sunday night. "Rather than express the usual ritual contrition, how about this: I'm on television every weeknight live for an hour. If you want to know what I think, you can watch. Anyone who disagrees with my views is welcome to come on and explain why."
Editorial note: this post has been edited since original publishing to more accurately describe the comedic tone of Carlson's commentary. 
[Featured image via Roy Rochlin/Getty Images]
Have a tip we should know? tips@mediaite.com