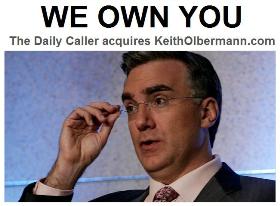 The latest development in the battle between Tucker Carlson's The Daily Caller and MSNBC host Keith Olbermann is a front-page headline announcing "We own you."
That's because, somehow, the "conservative answer to the Huffington Post" has acquired KeithOlbermann.com – and has some big plans for the new site.
In a post by "The Daily Caller," the site announced the acquisition:
"We plan to make The Daily Caller the one-stop online shop for Keith Olbermann commentary," said Editor-in-Chief Tucker Carlson. "We will be THE Keith Olbermann superstore."

"This is part of our long-term growth strategy," added Publisher and CEO Neil Patel. "Our future acquisition targets include several other annoying cable news commentators."
As of now, KeithOlbermann.com re-directs back to the Daily Caller homepage (similar to our April 1 BeckCrunch.com launch). According to GoDaddy.com's WHOIS search, KeithOlbermann.com is registered to DomainsByProxy.com (an Arizona company) and has been since 2004. It was last updated on July 12 however, which may have been a sign of when the deal between the registrant and Daily Caller was reached.
It's surprising that in this new media world – where Keith Olbermann is the Twitter.com/KeithOlbermann feed – he, or a representative of him, doesn't personally own his own namesake online. On a smaller scale, he doesn't have the Facebook.com/KeithOlbermann URL squatted either – some guy John Paul DeVerna does.
Expect an Olbermann response soon to Carlson, his former colleague at MSNBC, and Daily Caller.
> Update: Responses, responses. Olbermann tweets:
Regarding @TheDailyCaller and Keitholbermann.com: I hope whoever sold it to them got CASH.

Also regarding @TheDailyCaller and KeithOlbermann.com – the law's pretty clear on this, so, nice waste of money, Tuckie. #p2 #tcot
Tuckie! So does this mean he's planning to sue?
Meanwhile, "Tuckie" tells The Upshot's Michael Calderone, "I woke up this morning with a smile on my face," and that he plans to use the email address Keith@KeithOlbermann.com.
—–
» Follow Steve Krakauer on Twitter
Have a tip we should know? tips@mediaite.com