Turkish Court Hires Lord of the Rings Experts to Decide if Gollum Insults the President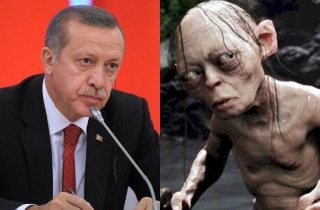 A Turkish man's freedom is in the hands of five so-called experts on The Lord of the Rings book series, who must now determine whether the character Gollum was actually evil.
Doctor Bilgin Ciftci was fired from his job and could face two years in prison after he reportedly shared an online meme comparing President Recep Tayyip Erdogan to the faces of the iconic J. R. R. Tolkien character. Erdogan's reign was described by The Guardian to have placed enormous restrictions on journalists and freedom of speech, and mocking Turkey's head of state is punishable by jail time.
Since the chief judge of Ciftci's trial had neither read the books, nor seen the film franchise, the court appointed experts and asked them to determine whether the comparison is indeed an insult. The group will include two academics, two behavioral psychologists, and a cinema and television productions expert.
Gollum (SPOILER ALERT) is the creature whose mind and body were twisted by the dark powers of the One Ring so that he would do anything to possess it. On the other hand, he ended up playing a major role in helping the main characters of the tale to destroy it and restore peace to Middle Earth, so it could go either way really.
Washington Post reported that after Ciftci's lawyer Hicran Danışman's free expression defense didn't resonate, said that the trial is now "a case of saving the pride of Gollum," for what he did to destroy Sauron.
[images via wikimedia]
Have a tip we should know? [email protected]