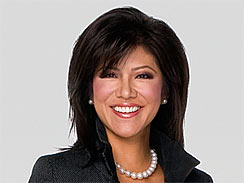 This fall on CBS there will be a new daytime talk show called The Talk, hosted by Julie Chen of CBS' The Early Show (and Les Moonves' wife) and a panel of other women. But it's not The View! (According to the CBS execs at the TCA Press Tour today.)
Well a sample show took place this afternoon, and if the tweets coming from the TV critics in the room, as it was happening, are any indication, this show may not be very successful.
Remember, these tweets were happening while the women of The View – I mean, The Talk – were onstage. Also, the full line-up: Chen, Sara Gilbert, Sharon Osbourne, Leah Remini, Holly Robinson Peete and Marissa Jaret Winokur.
Tim Goodman of the San Fransisco Chronicle:
Wait, they're going to be talking like this every day? That's the show?

Can't we just put the women of "The View" in the Thunderdome with the women of "The Talk"?
I'm not entirely sure, but I think Julie Chen just compared herself to Cedric the Entertainer.
Scott Collins of the Los Angeles Times:
Um, the six gals of #cbs "The Talk" seem to have no chemistry whatsoevuh. #TCA session BO-ring! Is that a problem?
I already find myself watching 'The View' way more than I really want to. Do I need 'The Talk' in my life as well?
"We don't have an edit button, this is how we feel" says Julie Chen of TheTalk, before she likens it to the movie Barbershop (yes, really).
Someone from the Detroit News:
CBS' new show "The Talk" is a lot like "The View" but with more chatter. Yikes!This is replacing "As the World Turns"? #TCA
Ben Grossman of Broadcasting & Cable:
Forget watching the show, pretty sure my testosterone levels just plunged 34% just sitting thru panel for new CBS "the talk" view-like show
The Talk! Coming this fall!
—–
» Follow Steve Krakauer on Twitter
Have a tip we should know? tips@mediaite.com